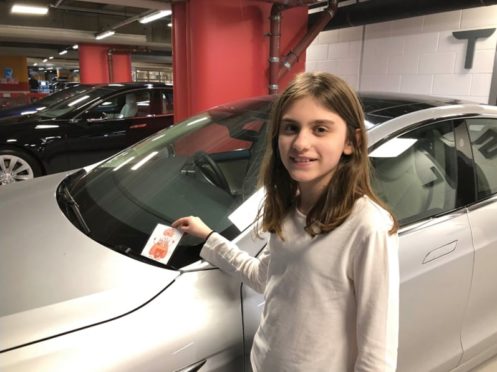 An "inspirational" young environmentalist travelled 300 miles from Birmingham to Dundee placing hundreds of thank you notes on electric vehicles.
12-year-old West Midlands youngster Charlotte Smith was yesterday made the youngest ever member of Electric Vehicle Association (EVA) Scotland in recognition of her incredible efforts.
She began placing small notes on the windshields of car owners last year in and around her hometown of Solihull with the help of her dad Steven after learning emissions can cause a range of lung conditions.
With Dundee recently hailed as the "most visionary city in Europe" for electric vehicles, Charlotte mapped out a route to make the City of Discovery her final stop.
Elinor Chalmers, a board member of EVA Scotland, yesterday presented Charlotte with an EVA Scotland membership pack at the city's new Princes Street Charging Hub.
Ms Chalmers said: "Charlotte is a wonderful example of a young person taking positive action to encourage use of electric vehicles.
"That is our mission at EVA Scotland, and I'm so proud to have been able to make her an honorary member.
"Fast adoption of EVs is a critical component of the drive to reduce carbon emissions, and to reduce particulates which cause health problems.
"What an inspiration Charlotte is — there are millions of adults who need to follow her lead."
---
---
Dundee City Council has made a big shift in recent years towards encouraging use of electric vehicles — particularly in the taxi industry.
There are a number of charging hubs now located in the city with more than 20 public charging posts spread in various locations.
Aberdonian Chris Ramsey, founder of electric vehicle advocate group Plug In Adventures, said he "just had to meet" Charlotte in Dundee after hearing of her story.
He said: "I have read Charlotte's story online and she is such an inspirational young lady, and it is fantastic to see the youth taking action and standing up for our planet.
"She wants to see air quality improve and took the decision to be a part of the solution and help drive change in her own way, which I admire immensely.
"We can prevent this world from being a world in which children's health is affected everyday by emissions, and people like Charlotte are telling the adults of the world that the youth want a better world for their generation and generations to come.
"It's time we all listened."