Dundee's Kyle Falconer was among the big winners at the 20th annual SSE Scottish Music Awards.
Annie Lennox, Susan Boyle, Snow Patrol and The Script also picked up honours.
The View's Falconer was handed the best album award for his first solo project and said he had put his "heart and soul" into the record.
Best album!!!! Thank you to the greats @NordoffRobbins1 for keeping it all about the continuation of life and music. Xxxxx pic.twitter.com/jQkoaJb6V9

— Kyle Falconer (@KyleFrancisFalc) December 2, 2018
Singers Boyle and Lennox were both inducted into the Scottish Music Hall of Fame at the event in Glasgow on Saturday night.
It is the main fundraiser for the music therapy charity Nordoff Robbins Scotland.
Upon receiving her award, Boyle, who opened the night with a performance of Wild Horses, said: "I'm very humbled and pleased.
"I'd like to congratulate Nordoff Robbins on their anniversary. Thank you so much, I will treasure this."
Lennox was unable to attend the event but sent a video message to the audience at the SEC.
She said: "I just wanted to say thank you so much for giving me this very special award.
"I'm very, very sorry that I can't join you tonight, but I'm there with you in spirit. I'm so proud of the work that Nordoff Robbins does and all I can say to you is thank you, thank you, thank you."
Knopfler, who made a name for himself as Dire Straits' frontman, picked up the "living legend" award, saying: "When I was a little fellow lying in bed not far from here listening to the music of the River Clyde, the noise of the fog horns and the ships, I used to absorb all the sounds of Scotland.
"A songwriter couldn't ask to be born in a better place."
Snow Patrol, who played an acoustic set, were named artist of the year, while Irish trio The Script took the best international artist gong.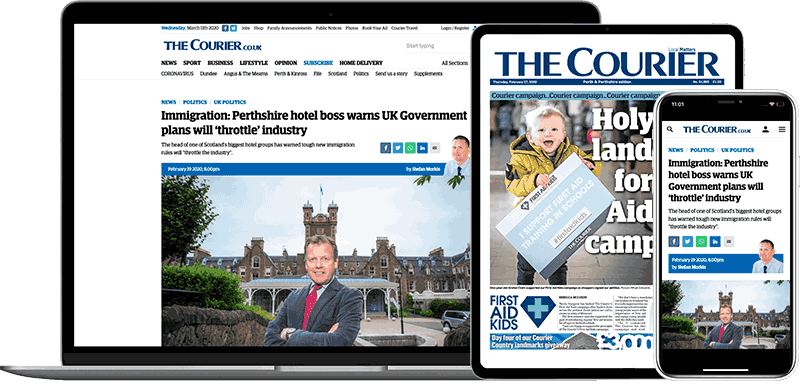 Help support quality local journalism … become a digital subscriber to The Courier
For as little as £5.99 a month you can access all of our content, including Premium articles.
Subscribe