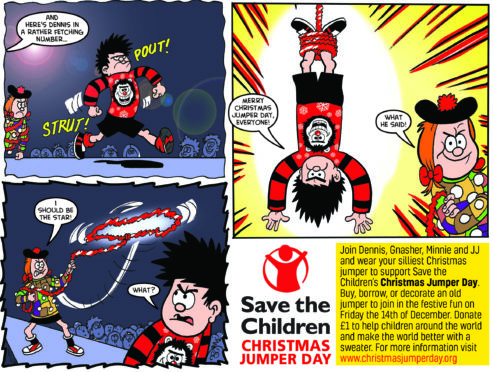 Dennis the Menace has ditched his iconic striped jumper for charity.
The Beano character will be donning a festive jumper in the latest issue of the comic in support of Save the Children.
The charity's Christmas Jumper Day takes place on December 14. People taking part by wearing a garish jumper on the day are asked to donate £2 to Save the Children.
This week's issue of the Beano sees Dennis swap his red and black attire for a festive jumper instead. He has rarely been seen out of his usual outfit since his 1951 debut.
In the comic strip, Dennis, Minnie the Minx and the Bash Street Kids all compete to see who can wear the 'silliest Christmas jumper' on the day in a fashion show.
Dennis' Christmas jumper is available from the online Beano shop, with 10 percent of the proceeds going to Save the Children.
---
---
Helena Wiltshire, head of PR and Partnerships at Save the Children, said: "It's fantastic to see iconic Beano characters Dennis, Minnie the Minx and the Bash Street Kids getting involved in this year's Christmas Jumper Day.
"Whether you buy our Christmas jumper or create one of your own, every jumper worn on the day can really help build a better future for children everywhere.
"Together we can make the world better with a sweater."