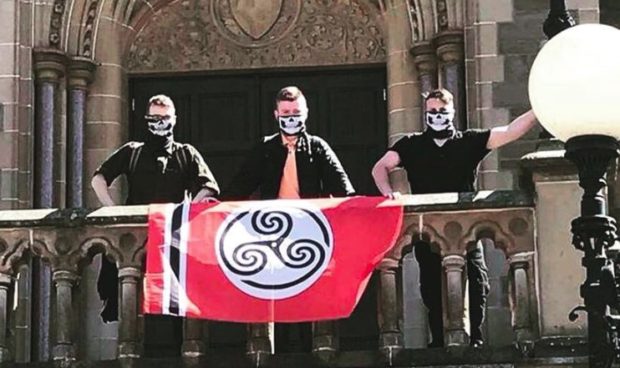 Anti-fascist campaigners are to stage a rally in Dundee after neo-Nazis shared pictures of themselves posing by city landmarks.
Members of the Scottish Nationalist Society also put up stickers around Dundee city centre and claim to be recruiting for new members.
Several members of the group – wearing scarves over their faces – posed for pictures shared on social media outside The McManus and the dragon statue on Dundee high street.
Stand Up to Racism Tayside plans to stage a demonstration in Dundee in opposition to the group.
Organiser Jim Barlow said: "Many people in Dundee would have been shocked and disgusted to read the headline last week which reported a story about neo-Nazis trying to recruit in Dundee.
"The group call themselves the 'Scottish Nationalist Society' and have links to the racist and fascist Scottish Defence League.
---
---
"They used two iconic pieces of Dundee architecture to have a photo shoot with their banner and covered up faces to help promote their racist ideology."
Mr Barlow added: "Their choice of the McManus Galleries steps was most insulting as it sits just beyond the statues of George Kinloch, Robert Burns and a plaque to the Dundee members of the International Brigade who fought in the Spanish Civil War against fascism in 1936-39.
"Kinloch, Burns and the Dundee International Brigade members were all defenders of democracy and free speech.
"The 'Scottish Nationalist Society' and SDL would put an end to free speech and democracy if they were ever to achieve power in our society.
"Stand Up To Racism members in Dundee would like to reclaim these two architectural sites for freedom and democracys so we are inviting all those who oppose the racists and fascists to join us for a Nazi-free photo shoot of our own, with banners and placards declaring just that.
"We need as many people as possible to show the Nazis that we cannot be intimidated by their vile propaganda."
Mr Barlow is asking people who want to take part to meet at the Dundee Dragon at 1.30pm on Saturday December 8 before moving on to the McManus Galleries.