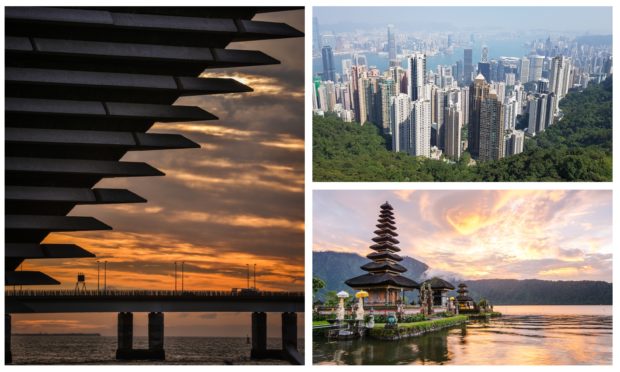 Dundee has been named in a list of the top 19 "must see" places to visit in the world by a leading travel magazine.
National Geographic Traveller has placed the City of Discovery next to destinations including Hong Kong, Corsica, Uganda, Indonesia, Pittsburgh and Antarctica in its line-up of "must-see" places to go in 2019.
Dundee comes in at 15 on the "cool list" – which cites the city's regeneration, the V&A and the RRS Discovery as reasons to make the journey to Tayside.
The article hails the city's "newfound confidence", adding: "Being chosen as the only city outside of London to house a V&A museum has created a new kind of swagger for Dundonians — and there's more transformation to come.
Featuring everything from futuristic cityscapes and modern architecture to pristine rainforest and rehabilitated wildlife, here are the 19 destinations making headlines in 2019. Welcome to the National Geographic Traveller (UK) Cool List #NGTCoolList2019 https://t.co/AKX2TohD95 pic.twitter.com/hv5YPiDXb2

— Nat Geo Traveller (UK) (@NatGeoTravelUK) December 4, 2018
"Main attractions: The £1bn redevelopment of the waterfront is still ongoing, but its crown jewel — the V&A, which opened in late-2018 — is in place.
"Scotland's coolest city": Wall Street Journal names Dundee in world's top ten travel destinations
"The project has also brought new restaurants, bars and (a) new railway station building to a part of town that had been in decline for decades.
"A few minutes' walk away you'll also find Robert Falcon Scott's Antarctic exploration vessel, the RRS Discovery, which was built here in 1900."
Dundee named alongside Los Angeles, Singapore, Florence and Patagonia in Bloomberg 'top 22' world destinations
The "don't miss" selection for the city is the V&A's Scottish Design Galleries.
Woo hoo! #Dundee has only gone and done it again! 🙌 🎉 We already knew it was an amazing city and it has now been included in the @NatGeoTravelUK Cool List of 2019 – one of 19 destinations anticipated to hit the headlines next year! #NGTCoolList2019 #CoolDundee #ScotlandIsNow pic.twitter.com/tRu9NbW6Fv

— VisitScotland News (@VisitScotNews) December 4, 2018
V&A Dundee director Philip Long said: "This is another wonderful recognition of how exciting a place Dundee is to visit, and shows again the international attention the city is rightly getting.
"V&A Dundee has already welcomed over 250,000 visitors and we look forward to many, many more travelling to Dundee and the wider region in 2019."
VisitScotland regional director Caroline Warburton said: "To be named on National Geographic Traveller UK's Cool List 2019 marks another incredible accolade for the city in what has been an unforgettable year for Dundee.
"2018 was the year that the world learnt what we have always known – Dundee is a must-visit destination – representing the very best of contemporary Scotland.
"Buoyed by this excellent news we look forward to continuing to work closely with industry to capitalise on the global interest in the city, encouraging visitors to stay longer and discover Dundee's world-class tourism offering."
National Geographic Traveller is one of the UK's top travel publications and has a readership of 150,000 and circulation of 58,242.
It is the latest in a growing list of top global publications to recommend the city to tourists
The Wall Street Journal, Vogue, Lonely Planet, Bloomberg, GQ, Conde Nast Traveller and the Los Angeles Times are among those to name Dundee as a go-to place for visitors in recent times.