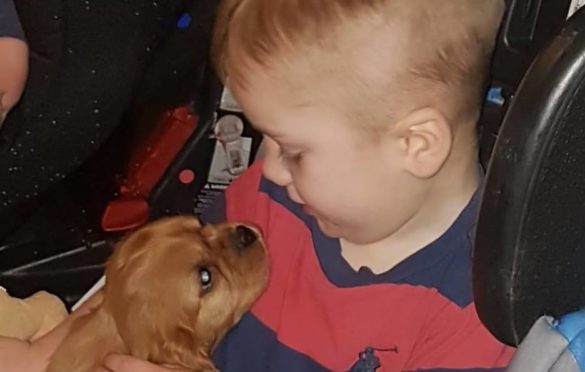 Two Dundee toddlers are facing Christmas without their beloved puppy after the pet was killed in an apparent hit-and-run incident.
Four-year-old Rome and his brother Noell, aged two, were left heartbroken when their "best friend" Rex, a King Charles spaniel, died after being hit by a black jeep outside their home.
The pup escaped from the back garden of the house on Coupar Angus Road, near the former Park House Hotel, at around 4.30pm on Friday.
The boys' mum, Indea Ogilvie, has appealed for the driver of the vehicle to come forward.
She said: "On Friday we let the puppy out into the garden – he normally plays outside and then comes back to the door when he wants to be let in.
"This time he didn't come back. Someone must have left the gate open and we didn't see it as it was dark.
"A young man came to the door to ask if we had a dog, as one had been hit by a car, and I immediately knew it would be Rex.
"People had seen a black jeep hit him and then carry on driving. Rex was killed on the spot and there was nothing I could do.
"The kids were heartbroken, they were crying the whole night. He was their best friend."
Indea also called for speed humps to be placed on the stretch of road where Rex died, where she claims some drivers speed at double the limit or more.
She said: "We've managed to get CCTV footage from a neighbour of the black SUV driving past.
"The road is really bad for speeding. People come off the Kingsway at 60mph and don't slow down, even though it's 30mph on our bit of road.
"They don't consider the people living there. It was a puppy this time but it could easily have been one of my children."
Police were informed of the incident and have appealed for anyone with information to call 101.
A police spokesman said: "Police Scotland is investigating a road traffic collision on Coupar Angus Road at about 4.30pm on Friday.
"A spaniel was killed after being involved in a collision with a vehicle, described only as a large black car.
"The driver of the car did not stop, and so far has not reported their involvement in the incident.
"The vehicle was travelling southwards on the section of Coupar Angus Road between Dunsinane Avenue and Liff Road.
"If anyone has any information please call 101."