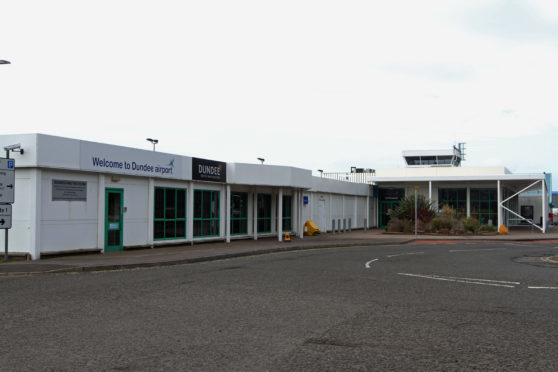 Dundee Airport's water rescue craft is under threat as a review of the service is carried out.
Highland and Islands Airports Ltd (HIAL) is consulting the local bodies as it examines the use of the emergency crafts across Scotland.
Seven of HIAL's 11 airports  — Dundee, Sumburgh, in Shetland, Barra, Benbecula, Islay, Kirkwall and Stornoway — have water rescue provision
The kit includes rescue crafts, a jet ski and a mud rescue team.
The fast rescue crafts allow crews to head out to the water in case of an accident.
A HIAL spokesman insisted the company would ensure local needs are met and said no changes to the fleet would be made prior to the public consultation.
However, he would not answer questions from The Courier about how often the Dundee craft is used and when it was last deployed.
A RNLI source did say he cannot remember HIAL ever assisting the lifeboat crew with any search on the River Tay, but it is understood that it was used for a search in May 2015.
The Coastguard service organises operations, delegating who is called out and assist in incidents.
A HIAL spokesman said it was "currently in the process of reviewing its provision of water rescue services, including fast rescue craft, across its airports.
"We are working closely with our on-site teams at our airports to review local risk and water rescue requirements and to ensure that what we have in place matches the local circumstances," he said.
"HIAL will ensure local consultation is carried out prior to any changes to any airport's water rescue provision.
"HIAL is committed to ensuring the safety of its staff and customers and continues to work with our partner agencies, including the Maritime and Coastguard Agency, to provide a safe and robust response in the event of an incident."
When asked for more information about the Dundee craft's deployment, the spokesman added that "as the review is ongoing we are only providing the statement at this time".
In Benbecula earlier this year, HIAL board members were told there has only been one incident in 30 years when a fast rescue craft has responded to an aircraft accident at sea.
It is understood to have been the Super Puma crash off the coast of Shetland in 2013 in which four people died.
However, a Coastguard spokeswoman said the Dundee craft was used to search for a missing aircraft in May 2015, which was later found on land near Abernyte. Two people died when the missing aircraft crashed into a hillside.