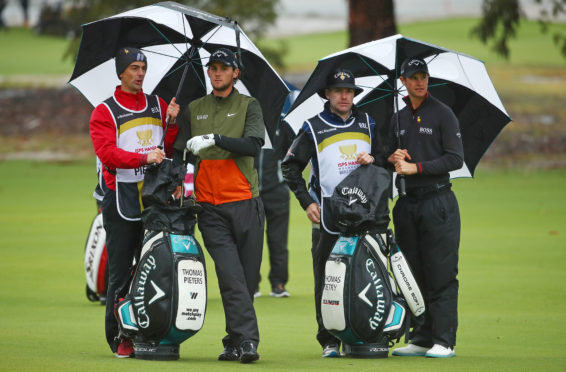 A Dundee caddy has helped Belgium win the season-ending World Cup of Golf in Australia.
Ryan McGuigan, 38, carries the bags for Thomas Detry, who partnered Thomas Pieters to the title.
The Belgians won the title by three strokes from the Australian team of Marc Leishman and Cameron Smith.
The 72-hole tournament was played at the Metropolitan Golf Club in Melbourne and featured a host of top players including Russell Knox, Ian Poulter and Matt Kuchar.
Ryan, who still lives in Dundee when he is not on tour, has been caddying for 14 years after graduating with a degree in business administration from Abertay University.
He said: "I started working with Thomas in January in this year so our first event was the first one of the year, the South African Open."
Detry won his place in Belgium's World Cup team after finishing third in the KLM Open in the Netherlands in September, the final tournament that counted towards qualification.
Ryan said: "The team was decided by world ranking and the cut-off was mid-September. Thomas finished really strongly – he birdied the last two holes – to come third and then the world rankings came out the next day.
"He made it into the team on the last day and then went on to win it."
After graduation, Ryan worked in recruitment and banking before getting a call from a childhood friend asking him to start caddying.
He said: "I got into the same as everybody else – I kind of fell into it.
"I grew up on the near Portrush and used to caddy there and at uni I used to work at Kingsbarns during the summer.
"It was about two years after graduation that a childhood friend who was caddying asked if I'd like to help out so I took him up on the offer and took a year's break from my career."
Fourteen years on the Tour later and Ryan has no plans to quit caddying any time soon.
He said: "I'm very fortunate that I came into the golf at a time post-Tiger Woods where it's possible to make quite a good living."
Ryan added that he was looking forward to working with Thomas Letry, 25, again in the New Year.
He said: "He has had a good year and made good progress.
"He's a nice guy to work for and we have a good relationship."