A Dundee property developer has unveiled ambitious plans to create Scotland's tallest building between the V&A and Tay Road Bridge.
InverTay Homes "vision" for the site include a 141 metre tall, 39-storey skyscraper, a five star hotel and sky bar, luxury apartments and sky bar.
No formal planning application for the £200 million Discovery Heights development has been submitted to Dundee City Council but the company behind the proposals claims it could potentially deliver a £200 million boost to the city's economy and create 1,000 new jobs.
If the skyscraper is built, it would be 16 metres higher than Scotland's current tallest building, Glasgow Tower.
A promotional film outlining the plans for site 12 on the waterfront has been posted online.
InverTay's director of operations Eddie Wighton, said: "We plan to build the tallest building in Scotland right in the heart of Dundee and we believe this will put Dundee on the global map.
"We believe this is the last piece in the whole regeneration and would create a focal point to be the Sydney Opera House of Scotland."
---
---
Mr Wighton said the building was still very much at the concept stage and further discussions with Dundee City Council about its possible location would be necessary.
He said: "We're a long way off in terms of it becoming a reality and in terms of a formal application or securing the site but the building itself is quite advanced."
InverTay is not the only company interested in building on Site 12.
Glasgow-based Dawn Developments Ltd has already published a proposal of application notice stating it will be submitting an application for a mixed development on the plot containing offices, hotels, housing and commercial units at site 12 at the Waterfront.
Mr Wighton said InverTay would consider building the skyscraper on other sites in Dundee if site 12 is not available.
"It is very easy for us to adapt to another site on the waterfront or even on private land because it's not the sort of building that can be hidden by its neighbours," he said.
The building has been designed for InverTay Homes, who are based in West Pitkerro Industrial Estate, by Fraser Middleton of Dundee company ARKTX chartered architects.
Mr Middleton said: "We appreciate that it would be a polarising development but it does reinforce the promise the Dundee waterfront development has the potential to attract.
"As Scotland's tallest building it would provide an excellent focus for business opportunities and will hopefully catalyse cruise ship and airport development as Dundee re-invents itself as a major business hub.
"Although we have located it on a particular site at the Waterfront it is clearly a concept as there has to be an acceptance from all stakeholders that it is indeed appropriate. In architectural terms this is still very much at the conceptual stage so it will be interesting to gauge public opinion.
"When the Waterfront Plan was developed the V&A was not even a dream and yet now it is reality.
"The city needs to embrace this new found confidence and build upon it to ensure that it is not simply viewed as a visitor attraction but a destination in itself.
"We believe this is a concept that reveals the ambition of the people of Dundee to surpass the ordinary."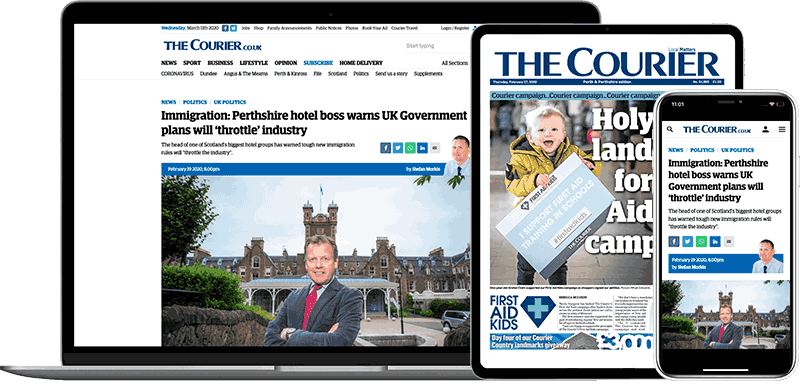 Help support quality local journalism … become a digital subscriber to The Courier
For as little as £5.99 a month you can access all of our content, including Premium articles.
Subscribe