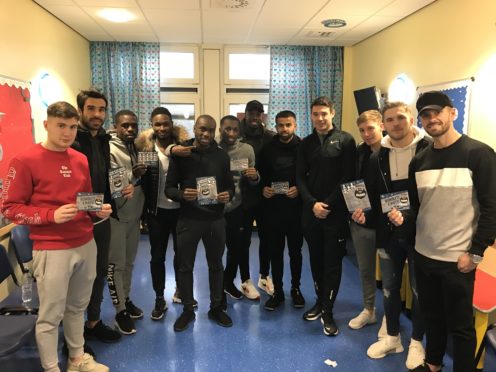 Dundee football stars are encouraging men to hang up their razors this winter and grow a beard to help raise money for sick children.
Dundee FC visited Ninewells Hospital to throw their support behind the Archie Foundation's Beard for Bairns campaign. It hopes to raise millions for two children's theatres in the hospital.
Dundee United players have also backed the campaign, as well as donating money for the new operating theatres at Tayside Children's Hospital.
The new facilities will double the current operating capacity and allow more children to have surgery, and recover, in a child-friendly environment.
From Christmas Day until January 25, men are being encouraged to grow a beard, or groom an already existing one, in a bid to raise sponsorship for the campaign.
The Dark Blues backed the campaign during a visit to the hospital. They also handed out gifts to children whilst there.
Dundee FC defender Darren O'Dea said: "We were delighted to show our support for such a great cause.
"Hopefully it encourages our supporters to get behind it."
Linda Meiklejohn, fundraising coordinator at the Archie Foundation, said: "It's fantastic to have Dundee FC on board with the Beards for Bairns campaign.
"It's great that high-profile players are involved and hopefully that will encourage fellow Dees to grow a beard, all in aid of the Tayside Children's Hospital appeal.
"It's not just for the guys either, this year we're looking to get as many women and children involved too. They might not be able to grow their own beards, but they can enlist someone who can with our Nominate a Mate campaign.
"Our flyer has a list of styles to help inspire our heroic fundraisers. Tick the style you'd like to see your nominee grow and if they accept, we ask you donate £10 to their fundraisers. If they decline, they're asked to donate to Archie as a forfeit."
Participants can sign up individually or part of a team at the Beards for Bairns website.
Thousands of pounds have already been raised through the scheme for the Archie Foundation's Children's Theatre Suite appeal.
Earlier this week, Dundee United players presented a £1,000 cheque.
Captain Fraser Fyvie said: "We were keen to continue our relationship with the Archie Foundation and this year we are delighted to be able to hand over £1,000 to them.
"The fundraising efforts make a massive difference to the experience many local children have when facing up to an operation in the Tayside Children's Hospital and, as a club, we are delighted to play a small part."