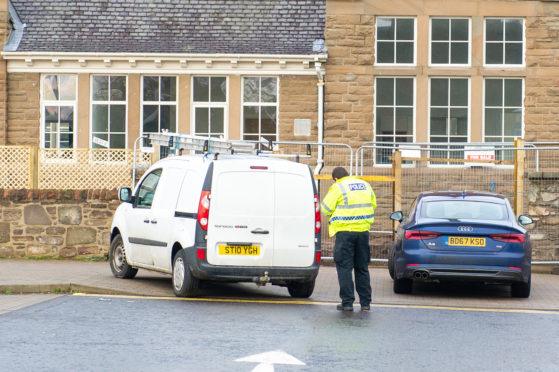 Two schoolboys had a lucky escape yesterday after they were knocked down by a work van on the last day of term.
The pair were taken to Ninewells Hospital in Dundee for treatment after being struck by the vehicle near Invergowrie Primary School.
Neither of the boys, who were aged about eight, were thought to have suffered any serious injuries in the accident.
Police were called to the scene on Errol Road at around 12.10pm on Friday afternoon.
Emergency workers from the Scottish Ambulance Service also attended but were unable to give further details on the boys' condition. A spokesman said two ambulances were sent shortly after noon and transported the youngsters to hospital for treatment.
One witness said: "You fear the worst when you see blue lights outside a school.
"Thankfully none of the kids appear to have been injured.
"It must have been a big shock for the van driver as well.
"I'm just glad everyone's escaped relatively unscathed – the last thing you want at this time of year is a tragedy."
A spokeswoman for Police Scotland said: "The two boys were taken to Ninewells Hospital but at this stage it looks to be very minor.
"Both have been said to be approximately eight years old but we don't have that confirmed at the moment."
The vehicle involved has been described as a white work van with ladders attached to the roof. It is understood no charges have been brought as a result of the accident.
Local residents have repeatedly raised concerns over traffic passing through Invergowrie amid plans to overhaul the nearby A90 Swallow Roundabout.
While there is no suggestion the accident is connected with issues at the roundabout, councillors have pledged to raise the incident with Perth and Kinross Council's traffic safety team.
It is understood the council will be asked to consider whether any further action needs to be taken to make the area safer.
Carse of Gowrie councillor Angus Forbes said he was "very concerned" to hear about the collision but was relieved no life threatening injuries had been reported.
"My thoughts are with the families of the children. It must be terrible to have to deal with this, especially at Christmas time," he said.
"Invergowrie has been in the news recently with the planning application over the Swallow Roundabout.
"As this accident took place on Errol road, I am not convinced its connected to the rat running issue that has been the subject of discussion following that planning decision.
"I will, however, make Perth and Kinross Council traffic safety team aware of it and have further discussions with them after the break."