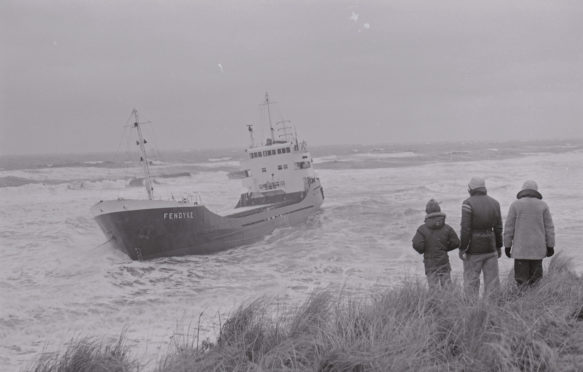 It was the daring River Tay rescue mission "in the most atrocious conditions imaginable" which saved the lives of a stricken ship's crew 40 years ago today.
Helicopters from Leuchars and Lossiemouth and lifeboats from Broughty Ferry and Arbroath were all involved in the 1978 Christmas Eve drama.
At the centre of the rescue was the 350-ton Hull-registered Fendyke, which was just 10 miles from Dundee Harbour when it was hit by a freak sea.
The coaster, with her cargo of drilling mud, was lifted by a giant wave before the sea crashed over her deck.
Water poured down her funnel, into the wheelhouse and through hatchways down to the lower decks.
The engine room was even deluged and a board controlling the ship's main electricity supply was burned out, leaving the Ferndyke without steering and with only auxiliary lighting and communications.
In the wheelhouse, 58-year-old captain Ron Dennis was thrown one way then the other and broke both his arms.
The Fendyke was able to radio for help and a Leuchars rescue helicopter – guided by flares from the Fendyke – found the vessel being rolled through 35 feet high waves in 50mph winds.
The helicopter battled through the darkness and the injured captain was winched aboard and flown to Dundee Airport where he was taken by ambulance to Dundee Royal Infirmary.
Flight-Lieutenant Adrian Murray told reporters: "They were certainly the most difficult conditions under which I've flown.
"In reasonable conditions the thing over which we're hovering does not really move all that much."
The helicopter returned to the Fendyke and 55-year-old Nellie Watson – the wife of chief engineer Ivor Watson – was lifted from the drifting coaster.
As the Leuchars team returned again, Flight Sergeant Larry Evans crashed against one of the coaster's aerials – smashing the double visor on his helmet.
A Sea King helicopter – larger and more powerful than the Wessex machines flown from Leuchars – hovered above the Fendyke as the six remaining crew members were winched to safety.
The Broughty Ferry lifeboat was knocked down repeatedly while crossing the Tay Bar and Coxswain John Jack and Second Coxswain Hugh Scott both suffered leg injuries.
Several other members of the crew were also hurt.
Speaking to The Courier at the time, Mr Jack said: "Conditions were very bad indeed — as bad as I've seen."
The coaster was eventually blown aground at Carnoustie Bay in the early hours of Christmas Day where she was stuck fast.
The London Gazette said the crew of the Fendyke was "clearly in imminent danger" in what was described as "the most atrocious conditions imaginable".
A 12-man crew were also rescued 150 miles off the Scottish coast by RAF rescue helicopters after the Swedish coaster Alstern sank in a force nine gale on the same evening.