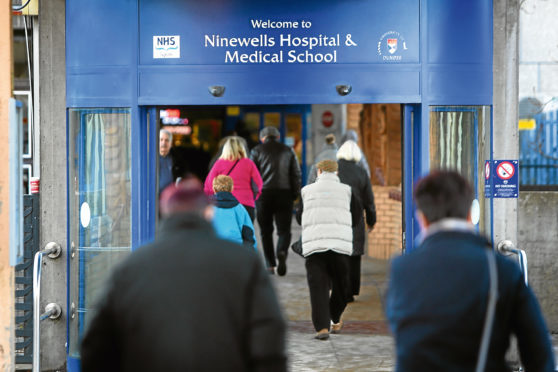 Health chiefs in Tayside have vowed to avoid a repeat of last year's winter strain via an 'industry leading' £738,000 planning initiative — but some senior staff say they remain unconvinced.
NHS Tayside will use the funding grant from the Scottish Government to provide an additional 16 beds at hospitals across the region, including at an acute frailty unit for elderly patients at Ninewells Hospital.
The scheme will encourage care closer to home, provide extra out-of-hours GP sessions and aim to raise awareness of services provided by local pharmacies.
The cash has also been used to fund an "innovative" planning programme and weekly summits with staff on the ground after bosses admitted services suffered "difficulties" coping with demand last year.
Health boards across Scotland were criticised for their handling of the additional winter strain and experts have warned staff will struggle again to cope this year with a predicted triple whammy of flu, staff shortages and icy weather.
Lewis Morrison, chair of British Medical Association Scotland, said services could be left to languish with hundreds of posts still unfilled and one in five calls to NHS 24 already mentioning flu-like symptoms.
He warned there is "little to suggest this winter will be any different" and called for long-term solutions such as bridging the gap between resource and demand and improvements in recruitment.
Dr Elaine Henry, clinical lead for winter planning at NHS Tayside, insisted the health board is confident in its ability to avoid a repeat of last year's troubling scenes and will even present the plan to industry leaders this summer as a new way forward.
"We've done a very thorough clinically driven winter plan, signed off by partnership colleagues, and I know staff are determined to look after our patients," she said.
"We will have pressures but we're going to pick them up as soon as we can and be proactive. This is something we've been trying to lead on in Tayside so people can have the treatment they need.
"We have been working since last winter to get ready and we have learned from last year. We have a more agile system and already we're getting feedback that it's been helpful to be able to make these decisions earlier."
One charge nurse, who has more than two decades experience working with NHS Tayside, said she was concerned the additional resources will not be enough after experiencing days last year when the medical floor was "30 beds over capacity".
"It's a recurring problem over winter that we have more people getting ill or having a fall so there's no excuse for it really," she said.
"The way things are at the moment, I think it would only take something minor and we will be back in the same kind of position we were last year. I think once again it's a crisis waiting to happen."
Dr Henry said she was "more than happy to listen to concerns" and encouraged any staff members with feedback to reach out or come along to meetings.