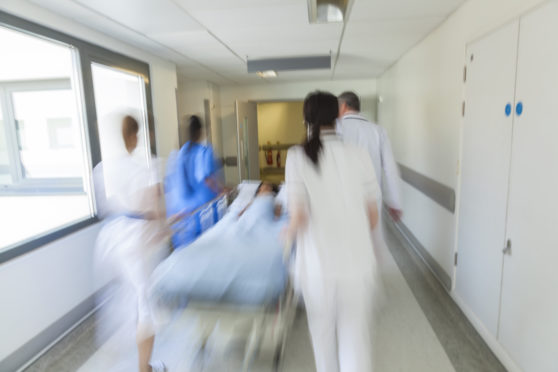 Unprecedented winter demand at Tayside's A&E departments is to blame for "horrendous" new figures showing a huge increase in the number of patients left waiting on trolley beds.
A freedom of information request by the Scottish Conservatives showed 2,392 visitors waited more than four hours at accident and emergency departments in 2017/18 – the highest on record and almost double the 2016/17  figure of 1,255.
And 322 people — again almost double compared to the 167 in 2016/17 — were forced to wait on trolley beds, used while they are waiting to be taken to a ward after being seen by a member of A&E staff.
Waiting times in local emergency departments in Dundee and Perth have consistently been among the best in Scotland in recent years, however, officials say 2017/18's harsh winter brought in "exceptional numbers" of sick and injured patients.
North East region MSP Liam Kerr said the figures were "horrendous".
He said: "More and more people are waiting to be seen in an A&E room.
"Many people will know this is stressful enough. Just wait until you've been there more than four hours and then have to sit on a trolley once you've been admitted."
NHS Tayside's unscheduled medicine clinical care group director Dr Ronald Cook said last winter saw a massive spike in the number of patients presenting with respiratory conditions and flu-like illnesses.
He also noted a sharp increase in the number of patients with broken bones during icy weather.
He added: "Despite the additional pressure on services, our staff coped well with the increased demand and worked tirelessly to ensure we continued to provide safe and effective care for our patients.
"Our performance against the four-hour standard for A&E quickly returned to its usual high level and has since remained consistently above the target.
"We know that winter is challenging for health services and we have tried to work differently this year to best prepare."
Last week, The Courier reported on NHS Tayside aims to avoid a repeat of last year's winter strain through a £738,000 planning initiative.
The health board said it will use a grant from the Scottish Government to provide an additional 16 beds at hospitals across the region, including at an acute frailty unit for elderly patients at Ninewells Hospital.
The scheme will encourage care closer to home, provide extra out-of-hours GP sessions and aim to raise awareness of services provided by local pharmacies.
Last week health bosses praised staff for their performance over the most recent festive season.
Of the 1,307 attendances at Tayside hospitals in the week ending December 23, just 44 people – 3.4% of the total – waited more than the national target time of four hours; much better than the national average of 11%.
Consultant and clinical lead for emergency medicine Dr Julie Ronald said: "Despite busy times our emergency departments in Ninewells and Perth Royal Infirmary delivered quality care to our patients during the hectic holiday period.
"This is undoubtedly down to the dedication, hard work and camaraderie of the whole emergency department clerical, portering, nursing and medical teams.
"The emergency medicine team in Tayside works collaboratively with our colleagues in the Scottish Ambulance Service, NHS 24, primary care services and in-hospital medical and nursing teams to ensure that the right patients are seen in the right place at the right time, and this has worked particularly well during this busy festive period."