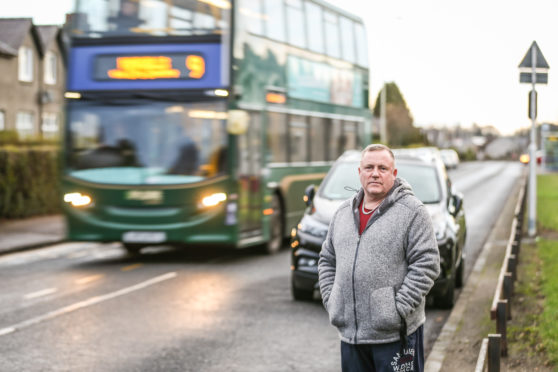 A disabled Dundee man believes he is being targeted by "speeding motorists" who object to him parking by the roadside near his home.
Broughty Ferry resident Alastair McLean says he has been forced to park at the opposite side of the road on Strathmore Street because an "unnecessarily large" bus stop takes up more than six spaces outside his house.
But since doing so, the 59-year-old has been inundated with angry notes.
He now believes his car was deliberately "keyed" by one motorist on Thursday.
Mr McLean has arranged for CCTV to be set up outside his home to guard against any future incidents.
The blue badge holder has also suggested the bus stop should be reduced in size.
This would make it more likely for him to have a disabled parking bay installed on his own side of the road — avoiding the risk of more confrontations.
Alastair said he was doing no wrong by parking opposite the bus stop and said the reaction from other motorists has left him baffled.
He said: "Am I going to end up with a flat tyre next?
"People sound their horns when I'm parking up there but I can't park outside my house and I need to be quite close because of my disability.
"They get annoyed because they may have to wait for traffic to pass and they can't travel as fast down the street.
He added: "One solution is to have the bus stop reduced in size and have a disabled bay put in."
Ferry councillor Craig Duncan added: "I have arranged to meet the resident to discuss the bus stop issue."
A spokesperson for Police Scotland confirmed Thursday's incident was reported to officers.
He said: "Police Scotland is investigating a vandalism to a black Vauxhall Mokka motor car which happened in Strathmore Street, Broughty Ferry, between 7pm on Wednesday January  9 and 11am on Thursday January 10.
"The car was damaged by a sharp implement being used to scratch the side of the car."
Anyone with information is urged to call 101.