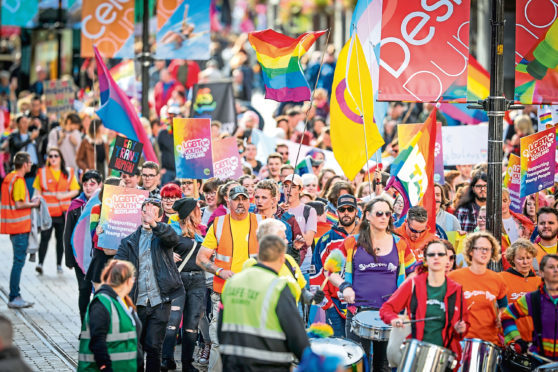 Organisers of the national Trans Pride event have chosen Dundee as its next host following the success of the city's first Pride march last year.
Trans Pride Scotland confirmed it will hold the celebration at Bonar Hall on March 30 and has invited performers who identify as transgender, gender non-binary to perform at the event.
Transgender or 'trans' people are those whose gender identity or expression differs in some way from the sex assigned to them at birth, although some prefer other terms.
The family-orientated day will be only the second ever Trans Pride event in Scotland after hundreds turned out in Edinburgh last year "to celebrate and protest".
The group has already begun fundraising with hopes of raising £3,000 for the festival and it is understood the organisers of Dundee Pride, which saw thousands of people descend on city streets last summer, have reached out to offer their support.
A Trans Pride spokesperson said: "Last year's march in Edinburgh was a runaway success. We expected 150 people to attend and we got 500.
"It was absolutely amazing to celebrate and protest about our rights to exist in this world. We were so overwhelmed and excited but determined to make the next one and the one after just as awesome, if not better.
"Trans Pride Scotland aims to march in a different location every year around Scotland.
"We want to go everywhere and give everyone the opportunity to march by our side – to have a taste of what it feels like to walk among your community and dance to the music."
The group hope funds raised through the donation site Go Fund Me will help "create a space we can be proud of" and contribute towards the cost of renting music equipment, seating and meeting travel costs for performers.
City development convener Lynne Short welcomed the announcement and said it confirmed Dundee is becoming known for its four Ds – discovery, design, digital and diversity.
"We are a city that you can now come to and enjoy so much to see and do, and it is great that a national Pride organisation has chosen Dundee," she said.
"I am sure we will all look forward to the event, and the restaurants and hotels will welcome visitors to the city as well. Any pound be it pink, purple or grey will be accepted here in Dundee."