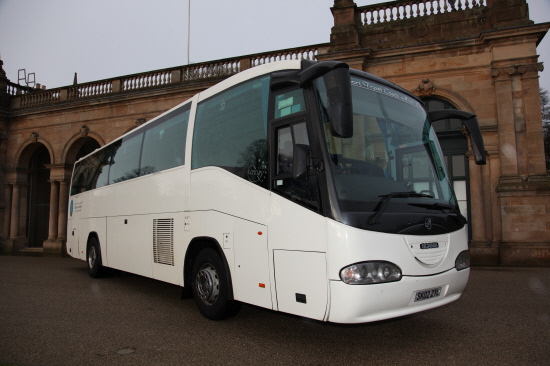 More than 20 workers at a Tayside private hire company are facing redundancy after the firm revealed it was going into administration.
Alternative transport arrangements have been put in place for pupils at schools in the region which use the services of Airport Travel Dundee.
Pupils in the Carse of Gowrie use the firm's buses to get to school in Perth and Dundee.
A company spokesperson confirmed administrators will take over this week but said the business will not cease trading altogether in the near future.
He added all employees have been informed of the news and will be paid their dues.
However, some staff said they had been left in the dark regarding their futures.
A spokesman for Tayside Coach Hire said: "There is an administrator coming in. All outstanding work and contracts will be honoured.
"We are not immediately ceasing trading. There will be redundancies but the administrators will be handling that side of things."
The spokesman declined to say why the company was going into administration.
A staff member contacted The Courier with concerns about how the situation was handled.
He said: "After I finished work on Friday I received a text message from one of the parents of the kids I take to school.
"They were concerned about a post on Facebook by Perth and Kinross Council informing them that my employer had gone into administration and other bus companies had been allocated the school runs.
"There was no communication from AT and when the owner was traced he would answer no questions, just saying the administrator would be dealing with things from now.
"No pay, no explanation nothing. Around 20 staff dropped like a stone without any explanation. Another victim of political turmoil or just a bad situation managed badly?"
The Airport Travel spokesman categorically refuted these claims when they were put to him.
He said: "That's not the case at all. The staff have all been informed over the weekend.
"There are no problems with  pay. There is a meeting arranged with staff."
There are 24 full time employees and others who work part time at present.
As of Monday Harris Academy and Perth High School pupils who were previously transported by AT will now be transported by Stagecoach Perth and Docherty's Midland Coaches respectively.
Urgent change to school transport in Carse of Gowrie School transport update for Carse of Gowrie: https://t.co/rYXRDedYag

— Perth&KinrossCouncil (@PerthandKinross) January 18, 2019
Meanwhile St Madoes, Errol and Inchture primary schools will be serviced by  D&J Taxis Ltd, Sidlaw Executive Travel and Smith & Son Coaches respectively.
A statement from Perth and Kinross Council explained: "As Airport Travel has gone into administration effectively immediately all Perth and Kinross pupils (this will mainly be pupils in the Carse of Gowrie) who usually receive their school transport on an Airport Travel bus will be picked up by a different bus from Monday morning.
"Times and pick up points remain unchanged."