A DJ was detained by police during a live set at a Dundee nightclub at the weekend as partying students looked on in shock.
A video posted online shows the man being approached by four police officers while behind the decks in the terrace area at Dundee University Students' Union (DUSA) on Saturday night.
It is believed the incident was not in regards to anything that occurred at the popular student party spot but was instead in relation an alleged offence committed elsewhere.
But officers took the chance to detain the man publicly while students out drinking watched in disbelief.
The university premises was packed out with many clubbers attending the Refreshers Week event Flashback Queen Special, taking place in a different part of the nightclub.
Student Ciaran Henderson, who was in the terrace area at the time, said the music cut out after the police arrived.
The 19-year-old said: "He was on the decks when it happened.
"There was no music for a bit. People were just confused and found it hilarious.
"Someone else took over but I wasn't out there for him.
"I heard he wasn't great. The DJ that was taken away was the best.
"I went for the Queen night but I went to the terrace for a while for a nice change.
"I'm not sure exactly when he was taken away but it was quite early on. Maybe just past midnight I'd say."
A spokesperson for DUSA confirmed the police detained a man working inside the building.
She said: "DUSA was made aware that Police Scotland wished to detain a contractor who was working on site on Saturday night and – as is standard procedure – facilitated this request without question.
"Aside from that, as this is an ongoing enquiry, DUSA cannot comment any further on this matter and any questions should be directed to Police Scotland, Tayside branch."
A spokesperson for the Tayside division of Police Scotland said the force had no record of the incident.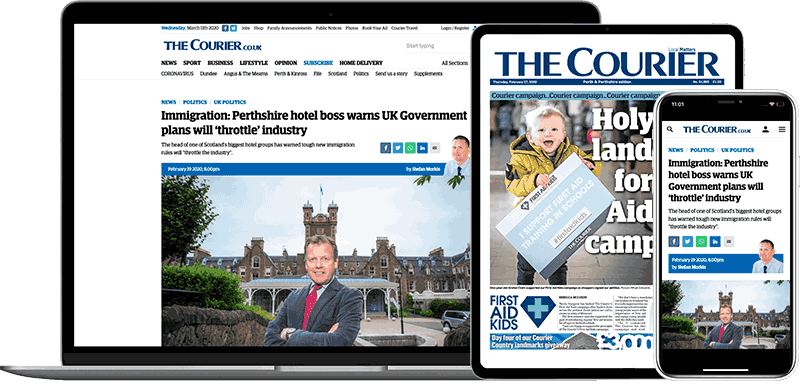 Help support quality local journalism … become a digital subscriber to The Courier
For as little as £5.99 a month you can access all of our content, including Premium articles.
Subscribe