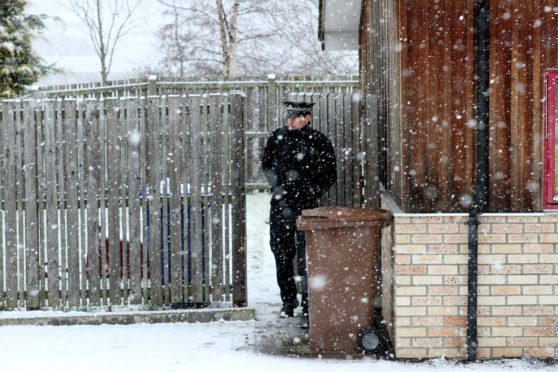 A Dundee man detained in a psychiatric hospital after allegedly severing a disabled woman's hand has had a "substantial turnaround" in his mental health, a court has heard.
Stephen Brisbane is currently a patient at the Murray Royal Hospital under a court treatment order, after protracted disagreements between doctors regarding his fitness to stand trial.
The 33-year-old is alleged to have maimed wheelchair-bound Sandra McGowan in a horror Valentine's Day attack after coming into her Charleston home uninvited on February 14, 2018.
He has made a number of appearances at preliminary hearings at Glasgow High Court, where he has at times become agitated in the dock.
However, on Tuesday's hearing he appeared to be on better form, and his solicitor, Mark Stewart QC, explained his client was beginning to understand the benefits of the treatment after initially being "hostile".
He said: "With this case there has been an ongoing issue with regards to a mental health diagnosis.
"There has been a substantial turnaround with this, particularly in the past few weeks.
"Mr Brisbane has been with the Murray Royal Hospital. For an accused person who was initially hostile to the idea of mental health treatment, he has remarkably improved.
"I have spoke to him this morning and he seems to grasp that there may indeed be some form of mental health difficulty, and understands he is being helped at Murray Royal.
"My client is anxious not simply to be left in limbo in a hospital, but he understands the situation."
Mr Stewart asked for the treatment order to be continued, with a new hearing scheduled for March 12, when updated reports on Brisbane's mental health could be presented to the court.
The request was granted by the Crown.
Brisbane is accused of entering Ms McGowan's home, demanding drugs and money from her, searching her handbag and purse, stealing an electronic door fob, remote controls and a mobile phone holder.
He is further accused of assaulting the 62-year-old, causing her to fall from her wheelchair, seizing hold of her wrist and severing her hand with a knife, which caused her to lose consciousness, taking the hand away, robbing Ms McGowan of a ring and failing to seek medical assistance for her.
He is also accused of threatening his sister with violence at an address in Dundee, demanding her mobile phone and stealing a phone.