A troubled firm built up a huge backlog of untreated clinical waste at its Dundee site, stored materials for months on HGV trailers and failed to adhere to basic incineration standards, according to official reports.
Enforcement notices issued by the Scottish Environment Protection Agency (SEPA) reveal investigators repeatedly raised concerns about conditions at the Wester Gourdie plant of Healthcare Environmental Services (HES).
An inspection report dated December 11 states a number of bulk trailers containing hazardous and non-hazardous waste had been left outside the processing building since October 1, breaching the maximum standard of seven days.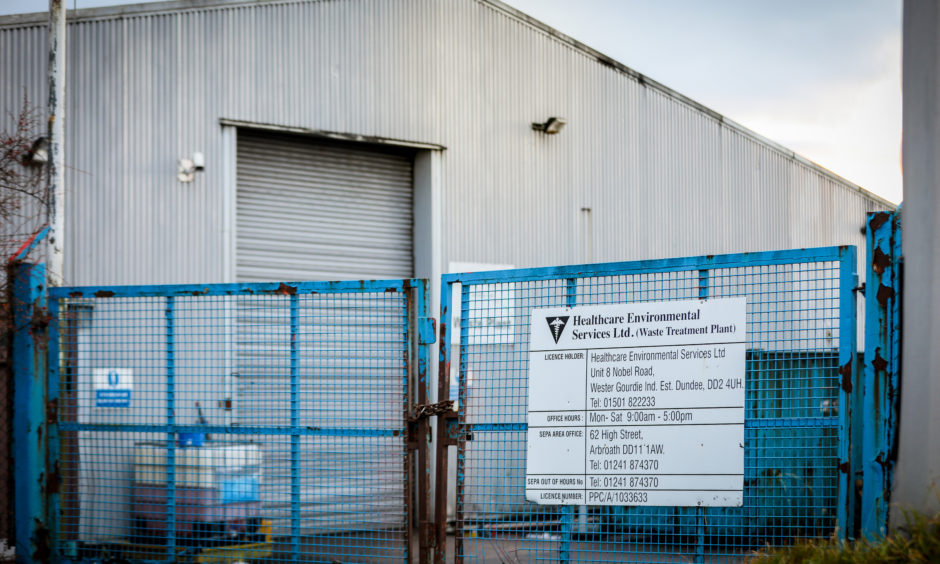 Investigators discovered a further 55 wheelie bins and two pallets of waste inside the building held longer than the maximum standard of 48 hours for this type of storage. They also found waste repeatedly had not been incinerated for long enough.
An inspection carried out at the same site on September 12 found procedural issues meant the movements of pharmaceutical medicines could not be properly tracked.
It also found further evidence of waste being stored months longer than it should have been and waste frequently being exposed to minimum incinerator temperatures for periods less than the accepted standard.
SEPA has launched a full investigation into HES and is currently examining whether any criminal offences have been committed.
---
>> Keep up to date with the latest news with The Courier newsletter
---
Stuart McSorley, who worked for the firm for around 18 months, is one of the former Dundee staff providing testimony to SEPA.
He said: "The trailers that were left at Dundee for long periods contained waste brought up from Normanton; all the usual nasty stuff – pharmacy, anatomical, etcetera."
Mr McSorley said similar waste was "continually" held at Dundee after being collected at Scottish hospitals and was frequently improperly stored "because the fridge hadn't worked for over three years".
He claimed months of unprocessed waste are now "left and forgotten" on trailers outside the processing building.
HES was responsible for disposing of clinical waste from every medical facility in Scotland and 17 NHS England boards prior to ceasing trading on December 27.
An inspection of its Shotts headquarters in North Lanarkshire found handling and tracking procedures were not capable of meeting minimum standards, meaning it was frequently not possible to confirm which waste had been treated.
A senior member of staff at a major international waste management firm with knowledge of HES sites said he is concerned they could now easily become overrun with vermin and disease.
"Short of very aggressive pest control, which very clearly isn't going on, anatomical waste left untreated could easily become a breeding ground for rats," he said.
"Stuff being left that long on trailers will already stink to high heaven and it's going to cost a fortune to clear up."
HES was unreachable for comment.