Attendants in Dundee have been snapped parking on double yellow lines — while fining other drivers for the same breach.
The council employees were spotted on Saturday morning just off busy Clepington Road at around 9am.
Ian Smart, who owns the nearby Barber's Chair, said the parking attendants, officially named civil enforcement officers, left their cars on the lines on Graham Street before positioning themselves behind a bush as they lay in wait for other out road users.
A spokesperson for the council insisted the employees had not broken any rules and said parking attendants did not have to abide by parking restrictions while going about their duties.
A video shows the pair handing out two tickets on Clepington Road before being confronted by 60-year-old Ian.
The businessman, who has run the barber shop for 26 years, said: "It's not like there weren't any parking spaces on Clepington Road.
"It looks like they parked there so the van couldn't be spotted and they could hide from sight.
"Rules are rules but they do it all the time here. I think it's hypocritical.
"You shouldn't be able to just do what you want because you're a parking attendant."
Ian said he watched the employees monitoring vehicles as they were parked in the 45-minute zone and then returning exactly three-quarters of an hour later to slap tickets on them.
"I said to the guy 'honest to God, are you on commission? Surely that's excessive'," he said.
"They didn't seem to care much but soon jumped back in their van when I filmed them.
"I do think the tactics are a bit much. I often see them being sly."
Ian said he was also concerned that some drivers were being unfairly punished for trying to do the responsible thing.
"A lot of the people who get fines near to the barber shop are those who have left their car overnight after going to the pub for a few drinks," he said.
"They come back early to move it but the attendants have already come along and fined them."
A spokesperson for Dundee City Council defended the officers, saying: "Attendants are permitted to park on double yellow lines as long as they are carrying out their duties at the time."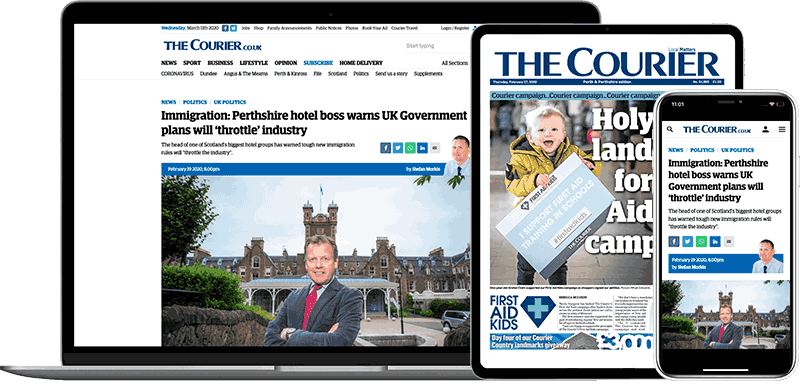 Help support quality local journalism … become a digital subscriber to The Courier
For as little as £5.99 a month you can access all of our content, including Premium articles.
Subscribe