Dundee City Council's cycling spokesman has defended the city's infrastructure following criticism from a prominent urban developer.
SNP Ferry councillor Kevin Cordell hit back after damning words from Mikael Colville-Adersen, who was in the city last week for a Sustrans event.
The Danish urban planner  — a key figure in the transformation of Copenhagen's cycling culture and infrastructure — likened the road design around the V&A to "something from the 1950s".
Mr Cordell insisted the situation in Dundee was more positive, but did concede it would take a "bold" vision to get to a similar place as the Danish capital.
He said: "I think there is much to commend in Mr Colville-Andersen's comments and they are in line with our ambitious plans to re-balance the usage on some of Dundee's roads.
Ahh. Sunrise over Motordom. #Dundee #Scotland pic.twitter.com/d6lbheibcr

— Mikael Colville-Andersen (@colvilleandersn) January 23, 2019
"There are a lot of exciting initiatives on the go at the moment, such as the recently opened facility at Dundee Railway Station, which will allow the safe storage of 120 bikes protected by CCTV and the newly refurbished cycle path through the docks which opened to great acclaim."
He said excitement around cycling was building in the city and the council was listening to requests from cyclists for good quality, segregated infrastructure.
"We must ensure that facilities are there for the functional cyclist going on about their business around the city, as well as the recreational cyclist," he added.
"If you want to encourage low emission zones, better air quality, enhance social inclusion and see healthier and fitter citizens then cycling has a vital role to play."
Yeah… uh… so… not a lot to report on the subject of #bicycle #urbansim in and around #Dundee. Bike racks at a station near the city. Some #bikeshare bikes at the station. Yep… #MicDrop pic.twitter.com/dI56Mod0Bi

— Mikael Colville-Andersen (@colvilleandersn) January 22, 2019
Mr Cordell said it would take bold, transformational decisions by councillors and council departments if Dundee was going to re-balance the use of public space in favour of pedestrians and cyclists — but he is hopeful that the city might set new standards for others to follow.
"It is obvious to anyone who cares to look that the car has dominated the use of our city streets for decades, but I believe we are entering a period where cities across Scotland will start to challenge the 'car is king' culture," he added.
"I'd like to think Dundee will lead on a public space renaissance that prioritises, cyclists and public transport users over less sustainable forms of transport."
Mr Colville-Andersen's comments sparked debate on social media, with some lamenting that Dundee had "wasted a fantastic opportunity" and others alleging cycling has been "actively deselected".
Morten Kabell, who works on Danish cycling magazine Copenhagenize, even called Dundee "downright dangerous to bicyclists and pedestrians right now".
Cities rarely get to rip it up and start again. Dundee wasted a fantastic opportunity, with the city centre as cut off from the river as ever, by an outmoded, unhealthy road system.

— Steve King #FBPE (@theoldmanse) January 29, 2019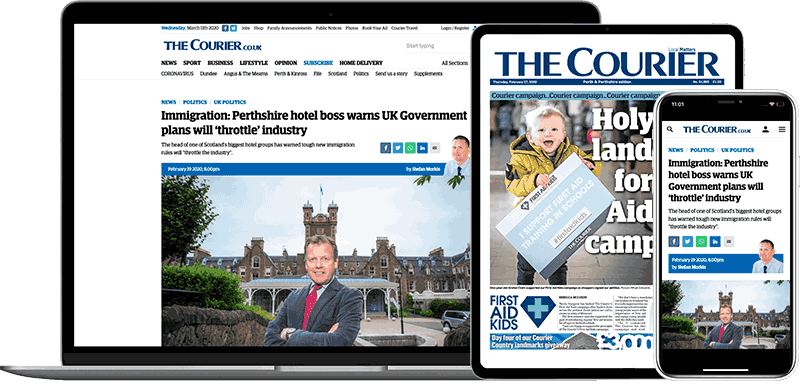 Help support quality local journalism … become a digital subscriber to The Courier
For as little as £5.99 a month you can access all of our content, including Premium articles.
Subscribe