Hundreds of people turned out to greet The Duke and Duchess of Cambridge as they officially opened V&A Dundee on Tuesday.
Known as the Earl and Countess of Strathearn in Scotland, the couple were greeted at the £80 million museum by Dundee Lord Provost Ian Borthwick, V&A Dundee director Philip Long, chairwoman Lesley Knox and V&A director Tristram Hunt when they arrived just before noon.
Inside the museum the Duchess was presented with flowers by schoolchildren Sean Edgar from Our Lady's Primary and Debbie Gray from Rosebank Primary.
She told the children, both participants in V&A Dundee's bonnetmakers project, that she "had never seen a museum like this".
The Royal Highnesses were then introduced to V&A Dundee architect Kengo Kuma.
The Countess, wearing a green coat-dress by Alexander McQueen in a style reminiscent of Black Watch tartan, told the architect "well done" for creating the waterfront museum.
Mr Kuma talked about his inspiration for the museum before they met members of the Young People's Collective, who helped organise September's 3D Festival.
The Duke and Duchess then entered the Scottish Design Galleries, where Jesse Norman, director of the V&A research institute, presented the Lover's Lace dress designed by Christopher Kane.
Dundee royal visit: Crowds gather at the waterfront as William and Kate officially open V&A
At this point, the Duke admitted he was "out of his depth" when talking about fashion.
The Earl and Countess also inspected Charles Rennie Mackintosh's restored Oak Room before the Duke met Bafta-winning games designer Simon Meek, who discussed his game Beckett.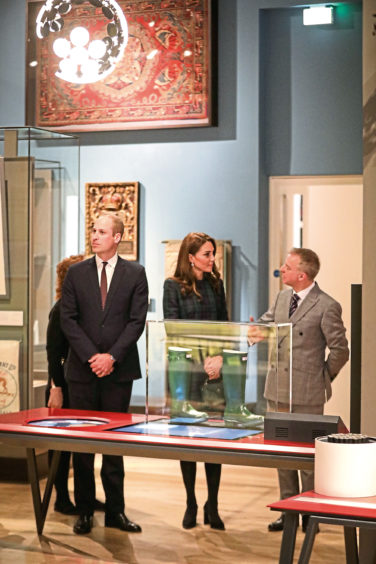 Prince William said: "It looks fantastic. It's all about playing with perceptions of reality, which is what video games are all about."
The Duchess met Raksinda Saber Ali, a Dundee woman training to be a museum guide, giving tours in Urdu and Punjabi, through the city's Amina Muslim Women's Resource Centre.
VIDEO: 'It was so exciting!' – Royal couple mingle with delighted Dundee crowd as hundreds show up to see them
The royal couple walked back downstairs as a brass band played the V&A Dundee Fanfare.
They met guests before the Duchess, the V&A's first royal patron, officially opened the museum.
Unveiling a plaque commemorating the event, she said: "Last February I was delighted to become a patron of the V&A and nearly a year later I'm delighted to be standing in a brand new V&A, one built for the city of Dundee and for Scotland.
"Walking around the museum it is easy to see how it is already inspiring the next generation by providing a new space for learning."
In The Charles Rennie Macintosh tearoom. pic.twitter.com/GnEj27VI9r

— Stefan Morkis (@C_SMorkis) January 29, 2019
Philip Long, director of V&A Dundee, said: "V&A Dundee is an ambitious new international museum and we are honoured that the Duke and Duchess of Cambridge declared the museum officially open.
"The Duke and Duchess were fascinated to see the museum. They enjoyed seeing the Oak Room, but I think especially they enjoyed speaking to all of the people involved.
"I think a highlight must have been coming outside and meeting people who had come from across Dundee and gave them a cheer."
Royal visit: William 'optimistic' positive outcome will be found for Michelin Dundee workers
He added: "With their connections here – where they met close by in St Andrews – it was important for them to come and see this museum and they really have shown their support."
Tristram Hunt, director of the V&A, added: "We are truly grateful for the support that our royal patron, the Duchess of Cambridge and the Duke of Cambridge have shown to V&A Dundee, the flagship institution of our growing family of V&A sites.
"This official opening recognises the museum's transformative impact on Dundee and strengthening the city's position as a new international cultural destination."
After their tour of the museum, the couple met members of the crowd outside, including children from Cherry Blossom Nursery.
'The visit cannot be viewed with any negativity' – Locals have their say on Dundee's royal visit
Among those to meet the royals outside V&A Dundee included 22-year-old student Ellie Jane Jamieson, a fine art student from at Dundee University's Duncan of Jordanstone Art College.
She said her mother had met Princess Diana when she had been at university, her father has met Prince Charles and that her grandmother has met the Queen twice.
Ella Jane Jamieson, a student at Duncan of Jordanstone, is hoping to meet the Duke and Duchess. pic.twitter.com/no6qTHm4IK

— Stefan Morkis (@C_SMorkis) January 29, 2019
She shook hands with Prince William and said: "It was worth skipping lectures for.
"I can't believe I met the heir to the throne and shook his hand. I'll have to phone my mum, she told me to come today."
Audrey Nugent, 52, gave Kate a decorative cushion and said she was delighted to speak to the Duchess after sending her letters in the past.
She said: "I told her, I'm the one who writes you letters and she said 'are you Audrey', so she new my name.
"I asked William for a kiss but he said 'I'm too old for that now'."
Student Daniel Barile, 19, was looking forward to seeing the royals.
The politics and international relations student at Dundee University, said: "The visit is amazing and it's putting the city on the map. It will provide some publicity for the V&A and for the city and this is a great event."
Dundee University medicine student Melissa Brenner, 23, said: "I think they are really lovely. I think the V&A is good for the city and Dundee has really improved and this is reflected in what people are saying about it."
Rory Mellis, 27, is a fan of the younger generation of royals in particular.
The law student at Dundee University said: "The visit is a good thing as it will bring attention and more people to the city.
"I think the V&A has improved the image of Dundee in recent years and Kate becoming patron of the museum will increase attention in it."
Rachel Patullo, 33, of Forfar, added: "We are royal fans but we love William and Kate and wanted to come and see them.
"The visit cannot be viewed with any negativity and I think it's a good thing that she is to become patron of the museum."
"It's a good thing for the city and it will put Dundee on the map," said Ed Feeney, 55, of Dundee.
A retired former caretaker at the RSS Discovery, he met the royal couple five years ago when they visited the historic ship.
He said: "I have met them before and they are really nice couple. I think it's amazing that she is to become patron of the museum."
Retired Joyce Redmond, of Dundee, said: "I think the visit will really raise interest in the city. I am a fan of the royals and William in particular. I have always liked him.
"With Kate becoming patron of the museum it will raise interest and that will be good for the city."
IT worker Helen Robertson, 50, of Edinburgh, took half a day off work and rushed through to see the couple.
She said: "I think the visit is a good thing. It's good fun and very positive. I am a big fan of William and Kate so it is extra special that they have come to Dundee.
"Kate is patron of the V&A museum in London so it makes sense for her to be patron of Dundee's too."
Italian Chiara Quirti, 22, hoped the visit would put the city on the map.
The criminology student at Abertay University said: "I am quite a royal fan and a bit of a fan of Kate and William.
"When you don't come from the UK there is something magical about visits by the royals like this.
"Kate has invested a lot in charity work and I hope she will invest in her role as patron of the museum."