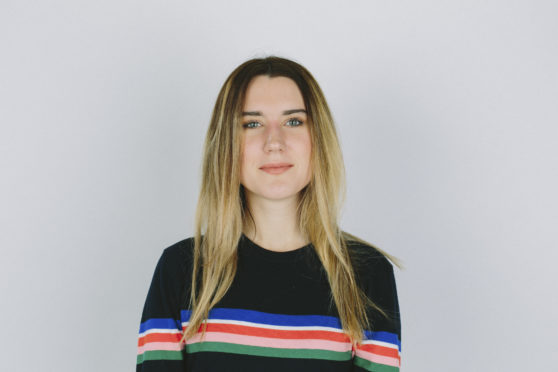 A Dundee University graduate is set for comic book glory just months after leaving the institution.
Anna Morozova graduated in November with a masters in Comics and Graphic novels and has now been commissioned by 2000 AD to draw for Future Shock, the groundbreaking magazine's section dedicated to the best emerging talent in the country.
She  has provided the art for a story entitled Juncture, written by Andi Ewington, which will appear in the comic later this year.
Anna said: "Illustrating a story for 2000 AD is an honour and I am very excited to join the list of creators who contributed to this legendary title.
"It is a fantastic professional starting point which was possible thanks to such a unique programme here in Dundee. I hope that the readers will enjoy my art on the pages of the forthcoming Future Shock.
"Finding the right style and approach was probably the most challenging part but I had a job to complete so I tried not to overthink the process. It was a truly enjoyable project and it provides a degree of confidence that the choices I made in the past were right"
Anna, who was born in Russia and grew up in Estonia, now lives in Dundee.
She had not considered art as a career until a few years ago but the course at Dundee offered her a route to explore where her hobby could take her.
Anna said: "I felt it was worth giving art another chance and Dundee was ideal due to its role in the history of British comics."
Her  commission came after MDes programme director Phillip Vaughan sent examples of her work to the editor of 2000 AD.
He said: "We are heavily invested in working with industry partners and 2000 AD is as good as it gets.
"The comic has been running weekly from 1977 and is a national institution. I sent the work to 2000 AD editor Matt Smith, to show him what our students are capable of and he picked up on Anna's work.
"It is great that our students are getting work with comics publishers like 2000 AD and this will be a fantastic platform for Anna to demonstrate her talent and ability to a wider audience. We look forward to working with 2000 AD and other publishers in the future."
Anna was also the winner of the Comichaus competition, which was run in conjunction with the MDes course at Dundee last year.
She illustrated a short story called Blasphemy, written by George Fredericks, which features in the latest issue of the Comichaus series, and she has been invited back to illustrate another strip for the title.
Graduates of the Dundee University course have worked for major comic book publishers such as Marvel, DC Comics, Image and DC Thomson.
Tayside played a key role in the development of 2000 AD and its most famous character Judge Dredd.
The magazine's first editor was Pat Mills, a former employee of DC Thomson.
He and Dredd creator John Wagner – another veteran of the Dundee company – worked as freelancers from a shed in Wormit where together they created many of the concepts and characters that would feature in the comic.