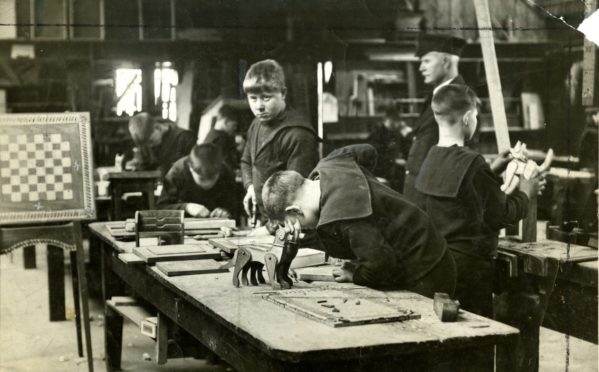 Children's harsh life on a naval training ship moored in the River Tay for 60 years comes alive in a new exhibition.
HMS Mars was a well known landmark in Dundee for more than half a century until it was towed away for scrap.
The vessel was home to thousands of poor youngsters who had lived on the street in a bid to draw them away from a life of crime.
It aimed to train the children, drawn from across Scotland, for a career in the Royal Navy or Merchant Marine.
Despite the harsh conditions endured those enrolled on HMS Mars also received medical and dental care in a time when most poor people did not.
HMS Mars was run on Admiralty lines so punishment was strict but inspections were held to ensure the boys were not mistreated.
Crucially, the vessel was a training ship and not a reformatory device.
The fascinating life on-board the ship, which held 400 youngsters aged between ten and 16 years at any one time, is being brought to life in the Sons of the Mars display.
University of St Andrews students Matthew Rice and Yohan Mainguy, 22, are behind the exhibition.
The museum and gallery studies students devised the show while working as volunteers on HMS Unicorn in Dundee.
The Sons of Mars will detail life on the vessel from 1869 to 1929.
It is being launched in the 150th anniversary of HMS Mars starting training and 90-years since it ceased.
Matthew, 28, said: "We have newspaper clippings, photographs, a few items and engravings from HMS Mars.
"We have been in touch with the grandchildren of some of the people who lived on HMS Mars to get their stories.
"It's such a fascinating subject and there are some great stories.
"Many of the children wrote to the captain of the ship in later years and they spoke fondly of their time on HMS Mars.
"We are very proud of the display and we are really looking forward to it."
The idea for the ship grew from the Ragged School movement which aimed to give poor people an education and a better life.
Youngsters boarding HMS Mars, in Woodhaven harbour, were woken at 5.30am and they scrubbed the deck for one hour.
Breakfast and prayers followed, before half of the children were given lessons in maths, English, geography and music.
The other half did practical study in subjects such as shoe repairing, clothing and sail making and seamanship.
After lunch, during which they were comparatively well fed, the classes swapped over.
A success story from HMS Mars is lance corporal Walter Cairns who joined the Scottish Rifles in 1910 and then went on to win the Distinguished Conduct Medal in the First World War.
HMS Mars was finally deemed unsafe and crowds lined the coast as she was towed to the scrap yard on June 27 1929.
There were similar training boats in British waters but these were mainly run by the Royal Navy.
The exhibition runs between March 22 and October 20 and it will be based on HMS Unicorn.
Entry to the ship is £2 for children four to 14 and £5 for adults with no further fee for the display.