A refugee family living in Dundee say they are "scared" about their baby being born due to the extreme levels of damp and mould in their home.
Khaldoon Alkhayyat, 40, and his heavily-pregnant wife Faten Basher arrived in the city with their three children 18 months ago but have pleaded with Angus Housing Association to move them to more suitable accommodation.
Large areas of the bathroom walls are covered in black mould and the family, including the couple's 19-year old daughter, who is also pregnant, has taken to sleeping in a single room at night due to the extent of damp in the rest of the bedrooms.
It is understood the housing association advised Mr Alkhayyat to open all the windows and run the heating in the house to attempt to clear the moisture but Mrs Basher said she has become ill as a result of breathing in the mould spores.
The 36-year-old said: "I cannot sleep properly because the smell is so strong from the damp. Everyone has to sleep in one room. I have had asthma for around six months because of this.
"I need help for my children. I am scared to have a new baby here. All I want is to move from this house. No one is listening to us."
A letter written by Mrs Basher's doctor in September supported her attempts to secure a move from their property and said she had developed "recurrent asthma symptoms, which I think are a direct result of the damp housing that she is currently living in".
The doctor said she had seen evidence of damp and an infestation of small insects on the floor. She added she was concerned due to her pregnancy and "also the fact her mood is now quite low, she was tearful and appears depressed".
The couple's 15-year-old son said he felt "stressed" because his clothes smelled and his sleep had been disturbed.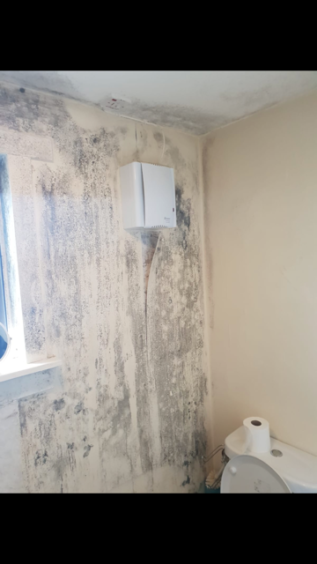 The family fled to Turkey as Isis began to take hold in their native Iraq before being sent to the Whitfield area to begin a new life.
The Scottish Refugee Council, who has been attempting to advocate on their behalf, said it was "really worried" for the family.
Wafa Shaheen, head of integration at the charity, said: "This flat is clearly not suitable for this family and we don't understand why they haven't been moved into more appropriate accommodation.
"Children and pregnant women should not be expected to live in a property that is making them ill.
"We're seeking assurance from the housing association that alternative housing will be found. Everyone has the right to safe, secure housing and this family is no exception."
Dundee MP Chris Law said he will contact both parties "to better understand the situation and offer my support towards resolving it".
He added: "Safe housing is a basic necessity which should be available to all, regardless of background, and it is particularly important that we offer a safe and welcoming environment to those who have made Dundee their home."
Angus Housing Association director Bruce Forbes said he would personally arrange to visit the family "as soon as possible".
He added: "We appreciate the problems that tenants have in heating their home properly on electric storage heating tariffs.
"During the course of summer 2019, all tenants in the maisonette blocks we have in Whitfield will be given the opportunity to have gas central heating installed in their homes."
---
Comment: Need for action couldn't be clearer
Walking into the Alkhayyats' home, the smell hits you almost immediately, writes Derek Healey.
Even with that first pungent clue, it is hard to fully grasp the extent of the problem until you are standing in the family's bathroom, where every wall is stained black and the wallpaper has bubbled.
As the acrid air catches at your breath, the situation Mr Alkhayyat, Mrs Basher and their three children have lived with for months becomes clear.
Every bedroom has evidence of mould, every wardrobe tinged with moisture and dark corners. The boys complain their clothes smell of the damp and some are even wet to the touch after being stored away.
It is hard to believe five people have lived in these putrid conditions for as long as they have. When you consider two of them are pregnant, it becomes almost unimaginable.
The Alkhayyat family clearly takes pride in their home and its current condition is obviously a bitter pill to swallow.
As I prepared to leave, Mrs Basher told me through laboured breaths that their baby, when it is born in a matter of weeks, will be sleeping in the master bedroom.
Just moments earlier, I had watched water trickling down a lightbulb in the centre of the ceiling in the same room.
The family say they are already forced to share the space because sleeping in any of the other bedrooms makes them too ill.
Angus Housing Association director Bruce Forbes was there to welcome the family when they first arrived in Dundee 18 months ago.
He will arrange to view the property personally in the coming days.
When he does, he will find the house in its current state is far from a suitable home for the Alkhayyat family, much less a newborn baby.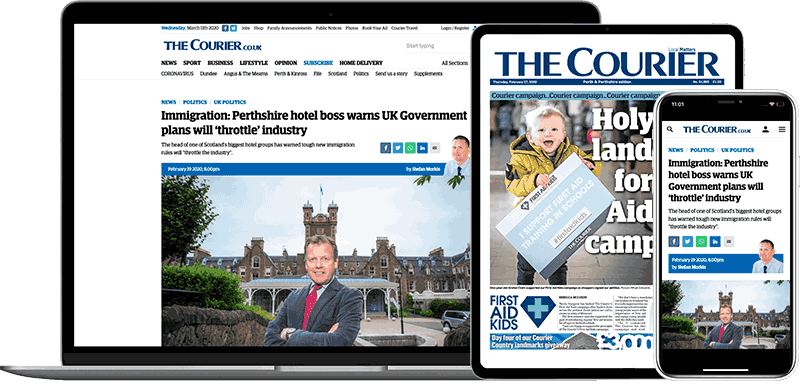 Help support quality local journalism … become a digital subscriber to The Courier
For as little as £5.99 a month you can access all of our content, including Premium articles.
Subscribe