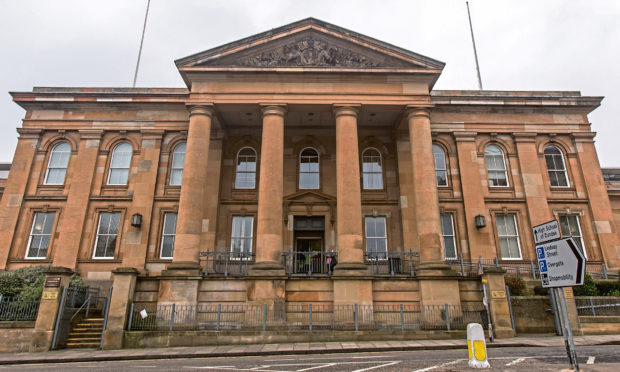 A man admitted assaulting his former partner during a midday fight that began in a moving car.
Liam Rodgers, 28 of Grieves Cottage, Longforgan, pled guilty to assaulting Mhairi Baird and to driving dangerously at around midday on February 5.
He denied two other charges, which was accepted by the court.
The incident happened just hours after Rodgers appeared in Dundee Sheriff Court on other matters.
Both exchanged blows inside the car as Ms Baird was driving after an argument erupted over Rodgers' phone.
Demi Doyle, Rodgers' step sister who was in the back seat, then pulled the handbrake. Rodgers' younger cousin, Rhea Rodgers, was also in the car.
Rodgers and Ms Baird then got out of the car and continued to fight on the street. Rodgers admitting pulling Ms Baird and punching her.
The other passengers also got out of the car.
After a short while, Rodgers then got into the driver seat and mounted the kerb on to the grassy verge to "intimidate them".
He then drove dangerously down nearby Buttar's Loan.
Officers arrived soon after and Ms Baird, who had suffered facial injuries and a bump on the head, was taken to hospital.
She was given an x-ray, but it showed no fractures on her forehead and she was allowed home.
Rodgers' solicitor Gary McIlravey said that Ms Baird "gave as good as she got".
He added: "She grabbed the accused by the ears and gave him a headbutt.
"He is fully insured to drive the car, and has done so before I believe.
"He admits that the headbutt caused him to lose his temper."
Mr McIlravey also suggested that the bump on Ms Baird's forehead was caused by her headbutting Rodgers.
Sheriff Lorna Drummond had reservations about granting bail, but did so on the condition that Rodgers stay at his home address between the hours of 7pm and 7am. The sheriff also disqualified him from driving in the meantime.
She said: "I am really concerned that you have been in the court and then immediately gone out and committed this offence.
"It's not your first domestic offence. It was committed while you were on bail.
"This would normally mean I would remand you. I am marginally persuaded, I will grant you bail.
"You will be disqualified from driving from today as I am bound to disqualify you then [when sentenced]."
Rodgers will be sentenced on March 5.