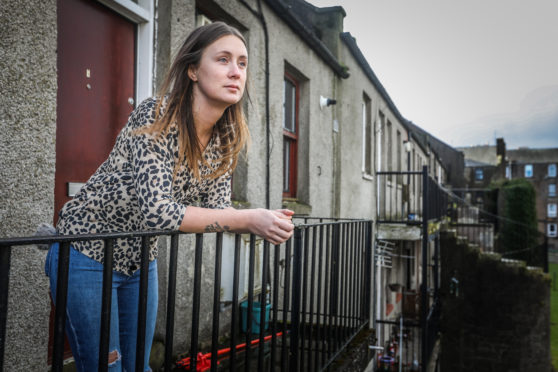 Tenants still living in a block of West End flats marked for demolition over 15 months ago say they have been left in the dark by the Dundee City Council and landlords.
The 120-year-old private and council-owned sandstone flats at 219-245 Blackness Road are to be razed and replaced with modern blocks after a decision by councillors in October 2017.
The building's deteriorating stairwells may soon become a risk to the public but the council has  struggled to agree on valuations to buy the flats from private owners and cannot find alternative suitable accommodation for the remaining council tenants.
Private tenant Laura Deas, who is five months pregnant and lives with her partner, said: "The council don't care about us. It feels like we've been forgotten about.
"The landlord wants the money from the rent right up until the demolition obviously, which I can understand but I'm pregnant and I don't know where we'll be living when the baby is born.
"The midwife said not to move while I'm pregnant because it's so stressful but this flat is not suitable for a baby. It's going to be demolished and there's so much that needs fixed. It's cold and there are water leaks.
"As for the stairwell, they are the reason the flats are being demolished but I'm still walking up these every day."
Nursing student Emma Barry, 27, who lives with four-year-old daughter Sophia and partner Jamie, said communication from the council has been "non existent".
She plans to move back to Edinburgh when her training is complete in August.
She said: "I panicked recently because the last of the council tenants moved out from below and I thought maybe the demolition was happening soon.
"When I called though, they just told me that they didn't know when. It's also freezing in here now because all the flats below are empty."
The spiral stairwells at the rear of the 26 flats were deemed to have a maximum five-year life span in summer 2017.
The majority of council tenants have since been relocated but it is believed at least two are still occupied. A few privately owned flats yet to be bought by the council are still occupied.
It is understood the local authority will spend around £300,000 buying the flats they do not own if a proposal to use Compulsory Purchase Orders (CPO) is approved by the Scottish Government.
28-year-old Tina Conte, a Museum and Gallery Studies student at St Andrews University, said: "We've not been told anything.
"There have been more people moving out in the last few weeks I've noticed.
"We actually found out from The Courier about the demolition at the time. That's how bad the communication has been."
Peter Menzies, from the West End Community Council, said: "There were a whole lot of tenants who were not consulted.
"These tenants still living in the flats have been left behind. Some have lived there for their whole lives."
Officials claimed a majority of residents – 14 of 22 who voted – backed the plans but a freedom of information request revealed six private landlords who do not live there had been counted as "residents".
A spokesperson for Dundee City Council said: "There is an item on the agenda for the full council meeting on February 18 seeking authorisation to proceed with compulsory purchase of the remaining flats."