Dundee is fast becoming a virtual reality haven as the city's second such offering opens at City Quay.
DogStar VR features some of the "world's best VR technology" allowing people to indulge in virtual activities such as watching a live concert or sporting match or compete for cash prizes in international gaming tournaments.
It comes just a few months after social enterprise Showcase the Street launched what they describe as "one of the cheapest VR arcades in the UK" at Manhattan Works.
DogStar VR has six wireless stations available to hire as well as Katwalk VR multi directional treadmills, allowing the user to experience the sensation of jumping and running 360 degrees on the spot.
Remote body sensors detect an individual's movement in a 50 square metre arena.
Karen Clifford, who co-owns the business with partner Donald Sutherland, said they want to make VR "as inclusive as possible" for the city.
She said: "We're keen to reach out to schools and colleges for potential future collaboration and support for students and to make a contribution to Dundee's creative community.
"We're aware that this kind of technology isn't accessible to everyone.
"Our vision at DogStar is to promote increased understanding and participation in VR for all and to place Dundee in the global VR eSports community."
eSports is a fast growing industry in which competitors can win prizes of up to US$100,000 for a single tournament.
DogStar VR's own first tournament has just launched, giving players the chance to compete with people from across the world.
Karen said, to her surprise, the city appears to have some of the best VR gamers in the world.
She said: "Some of the scores our players achieved over the weekend puts them in the top 10% in the world.
"I have to say I didn't expect that. We will be recruiting a DogStar VR eSports team to compete globally against other arcades soon with ever-increasing prize money.
"The game we are running is called Beat Saber. It is the number one VR game in the world."
According to Karen, the game is "very quick" to learn, easy to play and requires skill and practice to become a master.
Players hold a red sabre in the left hand and a blue sabre in the right hand.
They must then swipe corresponding cubes left or right as they fly virtually towards them.
Karen added: "Even experts can be quite worn out after a few sessions.
"We also plan to run locally-sponsored tournaments on a monthly basis with a year-end final.
"The next tournament will be a multiplayer game called Tower Tag developed specifically for arcades.
"We're open Friday to Sunday for anyone who wants to come down or book to have a go."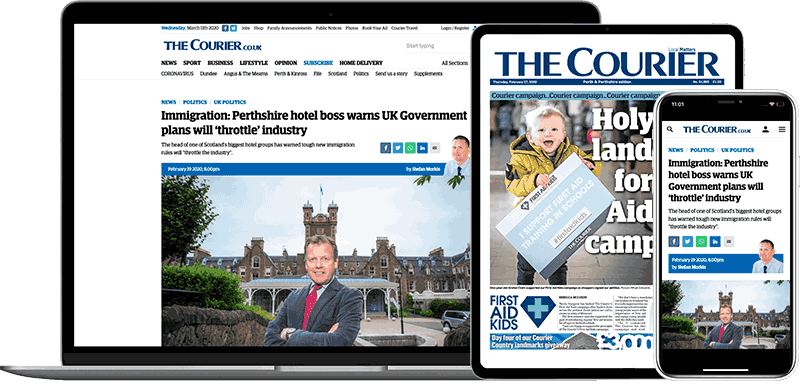 Help support quality local journalism … become a digital subscriber to The Courier
For as little as £5.99 a month you can access all of our content, including Premium articles.
Subscribe