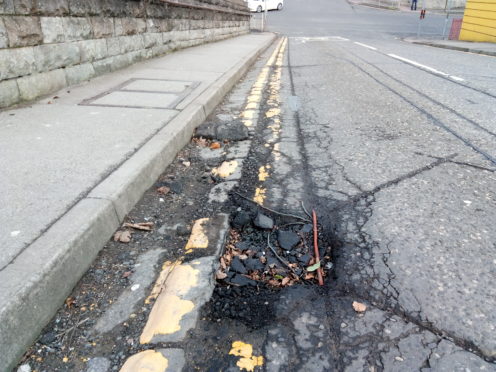 Council workers have failed in a third attempt to conceal a mystery cable exposed to the elements in a Broughty Ferry road.
The orange wire was first reported on Fort Street Bridge in April last year by a member of the public who was concerned it could pose a danger.
The council said it fixed up the tarmac covering the wire, thought to be connected to nearby traffic lights, before it reappeared days later.
Ten months on, residents have again complained to the council.
Ferry Liberal Democrat councillor Craig Duncan the wire was now more exposed than ever.
Mr Duncan said: "It's appeared again and it's definitely the same as last time. We all know that if they try to fix it in the same way then it's just going to happen again.
"I've been informed that the wire is pretty safe but people passing by aren't to know that. They'll just spot an electrical wire lying there and may think it's dangerous.
"It is something that I've been contacted about and people seem quite alarmed by it.
"I also reported it last week and it's still not fixed. Who's to say that a lorry or truck passing over it won't do further damage?"
After first being contacted last year, Dundee City Council claimed the matter had been resolved but upon hearing the cable was still exposed it promised to take action.
It is believed the cable has become visible in more than one section of the road due to potholes.
Mr Duncan said it was "obviously a recurring problem that needs to be addressed".
He said: "I've made the point to the roads department that the repair work carried out needs to be more durable.
"However they do it is up to them but clearly it didn't work last time.
"I believe it is used to operate the traffic lights nearby. Thankfully they appear to be working fine."
Dundee City Council said: "We are aware of the situation and will be taking action to rectify it."