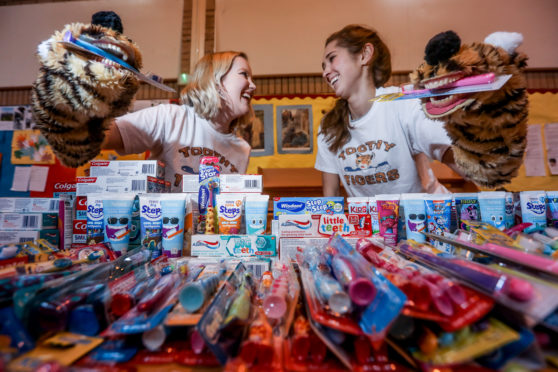 Two Dundee churches have teamed up with local dental students to give out free toiletries after it was revealed some youngsters in the city are so poor they don't own a toothbrush.
Worshippers at Meadowside St Paul's and St Andrew's Parish Churches wanted to show some love to young teeth this Valentines Day by handing out basic necessities.
They were assisted at Meadowside St Paul's Church Halls on the Nethergate by Dundee University's student-led Toothy Tigers group, who are on a mission to improve oral health among the city's children.
It follows on from comments made by Professor Peter Mossey, from the university's School of Dentistry, who warned last month that levels of deprivation in parts of Dundee meant some children were sharing a toothbrush with other members of their family.
Prof Mossey has worked with the Toothy Tigers to visit schools across the city and warn youngsters of the importance of looking after their teeth.
Keen to assist in those efforts, Revered Caroline Taylor, Interim Moderator of St Paul's and St Andrew's, called on congregation members to donate items and was left shocked by the response.
She said: "Reading the story took me back to when I was collecting necessities with the Brownies to send to war-torn Eastern Europe five or six years ago.
"We asked them to make sure they packed toothbrushes and toothpaste because some families were sharing.
"The wee girls, who were seven or eight years old, were just horrified by that thought.
"When I realised that was happening here I was just so shocked.
"You maybe expect it somewhere where there has been a war but you don't expect it in your own city."
Prof Mossey, a leading expert and researcher in dental health who works across the globe for the World Health Organisation, praised the work of the congregation as well as that of NHS Tayside.
He said: "Work by the health board here means Dundee has seen one of the greatest improvements in oral health in Scotland in recent years — it has been remarkable.
"The next step could be to move this north of the Kingsway and take it closer to those in need."
Donna Kirk, NHS Tayside Oral Health Improvement Lead, said: "It is important that all Tayside residents visit the dentist regularly to ensure that any issue is identified at an early age.
"As part of Childsmile, every child in Scotland receives six toothbrushes in the first five years of their life to help families introduce a daily routine of brushing in the morning and before bed.
"NHS Tayside Oral Health Improvement Team also supplies local food banks with toothbrushes and toothpaste."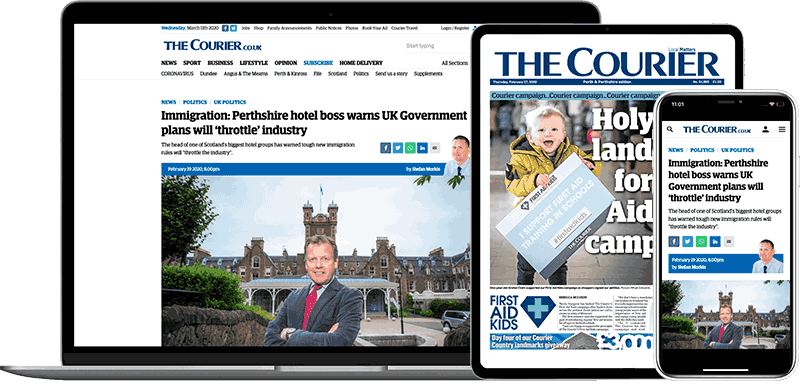 Help support quality local journalism … become a digital subscriber to The Courier
For as little as £5.99 a month you can access all of our content, including Premium articles.
Subscribe