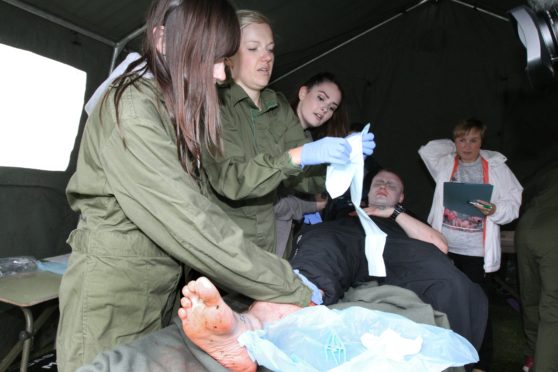 Castle Huntly inmates have been feigning injury and sickness, in order to help train the next generation of nurses.
Around 60 inmates from the open prison near Longforgan have volunteered to take part in simulation exercises run by Dundee University.
They range from dealing with the types of injuries seen after a natural disaster such as an earthquake, to more day-to-day scenarios such as patients seeking treatment for substance abuse.
Nursing lecturer Tom McConnachie, who organised the simulations, said the prisoners became so involved in the programme they started contributing ideas on how to make the experiences more realistic for the trainee life-savers.
He said: "I would suggest a basic scenario, for example, a patient who is seeking help for substance misuse.
"We would then sit together at a planning meeting and discuss how we would deliver the session.
"However, as time progressed, the prisoners grew in confidence and wanted to become more involved.
"At planning sessions, they began to use their own life experiences to help make the scenarios more authentic.
"They offered insights from a personal level which undoubtedly enhanced student learning – but also offered the prisoners some 'social capital'."
Writing for online journal The Conversation, Mr McConnachie said training nurses has never been more vital.
He said: "The NHS is duty bound to provide its patients with a high standard of nursing care. But a range of pressures is making this increasingly difficult for a shrinking nursing workforce to provide.
"An ageing population means more people in hospital, often for longer periods. Patients with multiple, complex conditions require round-the-clock care from a team of dedicated nurses. But fewer nurses attempting to treat growing numbers of patients creates the perfect storm for stress and burn-out."
He added: "Initially, the idea of involving prisoners in an undergraduate nursing programme did raise a few eyebrows but, on closer examination, the rationale for this initiative soon became clear.
"Research shows that prisoners have poor physical, mental and social health. Many have low education and literacy levels, low levels of employment and may have been in care.
"The Castle Huntly volunteers were typical of this group, and they proved to have a wealth of knowledge about complex health needs, experience of poor mental and physical health and experience of being in the NHS system.
"Participation in simulation activities quickly became a popular placement with more than 60 prisoners taking part.
"Prisoners' roles were initially as actors, but they soon became involved in helping design, deliver and evaluate the simulation activities which included diabetes, sexual health and substance misuse.
"Not only were the prisoners supporting the education of student nurses, they were developing their own self-esteem and sense of worth."