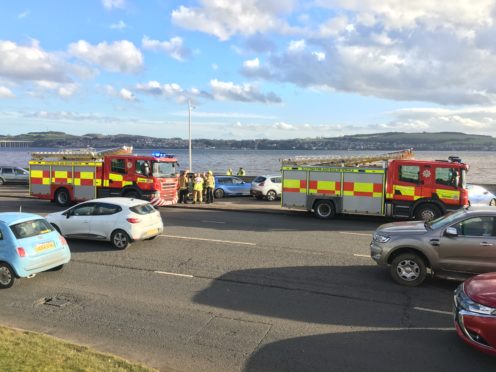 A man was rescued after falling into the River Tay in Dundee on Sunday afternoon.
The incident occurred on Riverside Drive opposite the Tesco Supermarket just before 2pm.
It is thought the man fell off the wall into the river and passers-by threw life-rings into the river to help him.
Emergency services then arrived on the scene and pulled the man from the water.
He was then taken to Ninewells Hospital for treatment. His condition is not thought to be life threatening.
One man who witnessed the incident said: "Somebody went into the river.
"They got him out but I don't know his condition. I'm pretty shocked."
His partner added: "It was pretty brutal."
A bus driver parked opposite the scene said: "I heard somebody fell in and someone else went in after him.
"I went into the shop and there was no one there and when I came back the emergency services were there."
Police sealed off Riverside Drive to traffic while the attended the incident.
The road re-opened at 2.50pm.
Police Scotland's Tayside Division confirmed a man had been rescued from the water.