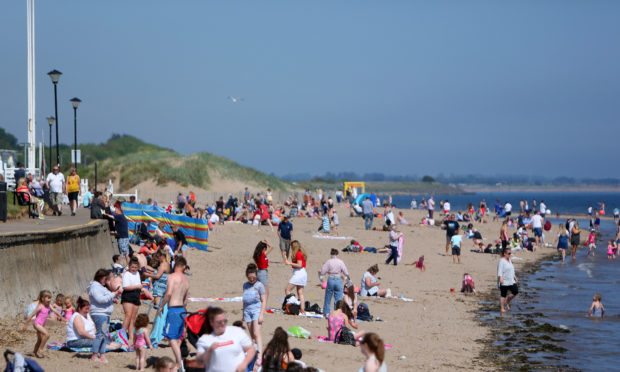 Work on flood protection work on Broughty Ferry beach will begin "imminently".
Plans have been released to widen and increase the height of some of the sand dunes between the Glass Pavilion and the castle to help protect Broughty Ferry from the risk of flooding.
The plans have been recently approved by councillors and have now been published on their website.
Any dunes not already five metres above sea level will be raised.
Up to half a meter of grass and vegetation will be removed on some, so more sand can be added before grass is replanted on top.
Some dunes will also be widened on the land side, with fencing being used on the sea side to trap moving sands. More grass will also be grown towards the sea.
All of these measures are hoped to stabilise the dunes and reduce coastal erosion.
Ferry councillor Craig Duncan welcomed the development and assured neighbouring homeowners they will not lose their sea view.
He said: "There haven't been many objections to this but some residents have said they're worried raising the dunes will ruin their view.
"To be fair to the officers have taken that on board and it will not really happen that way as I understand it.
"This work needs to be done. Most scientists agree that sea levels are rising.
"It's all very well saying you've lived here for 50 years and there has been no flooding in that time, but if nothing is done then there will be flooding in the future.
"The council is being proactive on this, and I support that. The work will be starting imminently."
The Liberal Democrat councillor also said work will also take place to extend a nearby concrete staircase so it is closer to the beach itself.
The base of the stairs became exposed earlier this year when some sand washed away. This caused one dog walker to struggle to climb them.
"The work there was done on historic records of the beach, and it was done about four or five years ago. That has already been proves that the sands are changing," Councillor Duncan added.