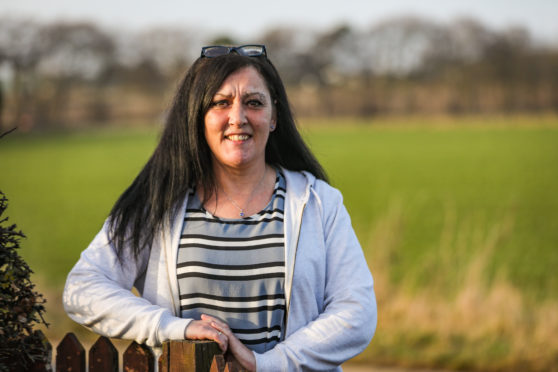 When Amanda Cowans and partner Joe McLeod attended the wedding of friends in Glen Isla last year they expected a celebration to mark the joining of two families.
But what they could not have known was the marriage of Andrew and Julie-Ann Geddes would lead to a cross-Atlantic reunification of Amanda's own family with the half-sister she thought lost forever.
When Amanda shared a picture of herself and Joe at the wedding, it was seen in Vancouver Island by a woman who shared a mutual friend with Joe  – and a mother with Amanda.
Adele Bruce was born in 1968 and given up for adoption.
Her adoptive family moved to Canada 20 years later and Adele never searched for her birth parents, although she knew her mother's surname was Cowans.
When she saw the picture of Amanda and Joe, and noticed a familiar surname, she sent a speculative message to Amanda asking if she knew any Cowans who lived in Fintry  around 1968.
As the pair exchanges messages and copies of birth certificates, it became clear Adele was, in fact, Amanda's half-sister.
Amanda, 52, only learned she had a half-sister she had never met after her mother's death more than two decades ago.
She said: "It must have been about 2009 and I had moved in with my sister Lee. We were having a drink and talking about mum, who had died in South Africa, where the family had emigrated.
"Lee said that before she died she had said she wanted us to try to find our half-sister, but all she could tell Lee was that her name was Adele and she was born in 1968.
"We didn't know where to start trying to find her."
By last year Amanda, Lee and their brother Mark had given up hope of finding their half-sister until Adele sent her message last September.
Amanda advised Adele to get a copy of her birth certificate which proved beyond doubt the pair were related.
She said: "I asked her to send me a copy of the birth certificate and it had my mother's name Linda Forbes Cowans and her old address on Mortimer Street.
"I dropped the phone and burst into tears.  My partner wondered what on Earth had happened but it was the best Christmas present ever."
Amanda's brother Mark visited Adele, who turned 51 yesterday, in Canada last week and she is now hoping to visit Scotland later this year to meet the rest of her family.
Amanda said: "Adele was a little bit nervous and Mark was a little bit nervous but they got on really well.
"My partner's birthday is on April 19 and Mark's is April 21 so we're going to do something to celebrate together, either here or in Dingwall, where Mark lives.
"Adele is hoping to make it across for that."