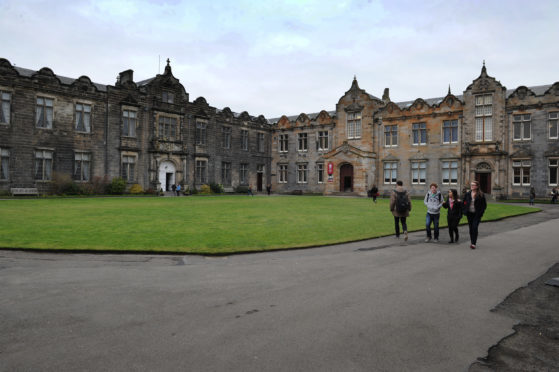 Scottish universities have warned a funding cut could have devastating economic consequences.
Critics say the new Scottish Funding Council deal for the higher and further education sectors will amount to a cut of more than 2% in real terms for many universities.
According to umbrella organisation Universities Scotland, St Andrews will be hit with a 2.7% reduction.
Abertay faces a 2.4%  cut and Dundee 2.3%.
Chief executive Karen Watt said research and teaching funding will be retained at the same level as the current financial year.
However, a spokesman for St Andrews University warned there was a danger of a knock-on impact on the wider community.
"Universities are not only academic institutions but economic powerhouses whose work supports thousands of jobs, business and innovation in communities across Scotland," he said.
"In St Andrews, we make a net contribution of over £450 million a year to the economy and 8,000 people rely on us for employment – that is 6,000 more people than we directly employ.
"It is going to be extremely challenging for us to maintain that critically supportive and catalytic role in Scottish society in the face of sustained and significant cuts in funding."
A Dundee University spokesman said: "We produce world-class research that transforms lives locally and globally, we attract students and staff from around the world who all contribute to our society, and we make a huge economic impact, something which is especially important in Dundee where we are one of the largest employers and creators of economic growth.
"We recorded a financial deficit last year and while we have a long term plan to improve our financial sustainability that will inevitably be made harder by this reduction in core funding."
A spokesman for Abertay University said: "This latest cut will make running the university more challenging.
"We will continue to manage the university finances prudently and invest where we can to maintain the best possible student experience."
Professor Andrea Nolan, convener of Universities Scotland and principal of Edinburgh Napier University said: "University funding has already been cut by £127.6 million in real terms since 2014/15 and the sector's pension bill alone is set to increase by £23 million a year.
"Some institutions are likely to struggle to make ends meet, eroding their capacity to deliver fully for Scotland's success.
"There's a separate pot of funding available to the Scottish Government via Barnett consequentials, created as a result of additional spend on research and innovation in England, that could be passed onto universities in-year to help mitigate these acute financial pressures."
A Scottish Government spokesman said: "As Universities Scotland's own analysis shows, while there is always some variation between years for individual institutions, there has been no cash reduction in the funding for the sector as a whole with more than £1 billion invested in them every year since 2012-13."