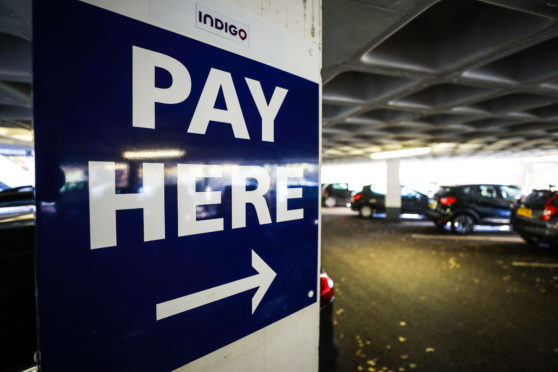 Patients and staff at Ninewells Hospital in Dundee will have to pay for parking for another decade.
NHS Tayside has said it currently has no plans to buy out the remainder of the 30-year contract from Indigo Parking, which is not due to expire until the end of 2028.
Heath board bosses agreed a contentious PFI deal to outsource management of the car park in 1998. Most Scottish hospitals have free parking.
There have been repeated calls for the Scottish Government and NHS Tayside to find a way to terminate the contract to alleviate the financial strain on patients and staff.
Former Scottish Government adviser Richard Marsh claimed earlier this year buying out the remainer of the contract from Saba Park Services, which took over Indigo Parking Service's UK assets in December, could cost as little as £800,000.
Health secretary Jeane Freeman said the Scottish Government would leave to NHS Tayside the decision on whether to attempt to extricate its staff from the payments.
She said: "On the question about buying back the contract, the starting point for that is predicated on whether the current contract holder is prepared to even countenance that.
"Then there is the cost. Whatever that cost is, it is money that then gets spent on a car park as opposed to another service.
"I've never got a closed mind to ideas but I think people need to recognise there is always more than one consideration to take into account."
Asked if there had been discussions with Indigo about whether they would be willing to have their contract bought out, Ms Freeman said: "That is really for NHS Tayside.
"Whether as a board looking at their finances in the round and where they want to invest and improve their service, does it feature in their three year priorities or not?
"If it does then they need to bring that forward but they need to make those early decisions first."
A spokesperson for NHS Tayside has now slammed the door shut on any potential buyout.
She said: "The car park at Ninewells Hospital is managed by Indigo under a 30-year PFI contract which ends in 2029.
"Currently, NHS Tayside has no plans to buy out the car parking contract."
NHS Tayside was asked under Freedom of Information legislation how much it had paid to Indigo and responded with a figure of more than £2 million to Indigo since 2012.
The vast majority of that sum covers parking passes purchased by staff on a salary sacrifice basis. However, it also includes the costs of running a courtesy bus and for repairs.