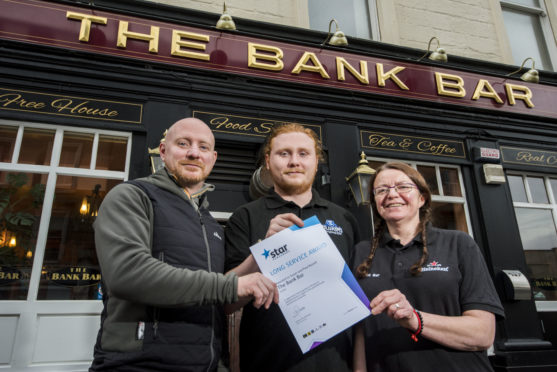 The licensees of one of Dundee city centre's last traditional locals have received a long service award to mark their 20th anniversary at the pub.
Susan and Paul Russell are now aiming to clock up four decades at the helm of The Bank Bar on Union Street.
The award – from the pub's owners Star Pubs and Bars – recognises the contribution Susan and Paul have made to the community.
Over the years, the Russells and their regulars have raised more than £15,000 for Tayside Mountain Rescue, of which Paul is the deputy team leader.
The Bank Bar is also a meeting place for Dundee groups ranging from philosophers to hill walkers, as well as  a live music venue showcasing a wide range of local musicians.
Dundee born-and-bred Susan was a customer of The Bank Bar herself when she was younger, enjoying lunches there with her mother in the 1990s.
When she heard it was short staffed, she offered to help and a two-decade association began.
Susan said: "It was meant to be part-time and short-term but I fell in love with The Bank Bar.
"When it became available, Paul and I jumped at the chance to take it on as our own. It really was a dream come true."
Formerly a branch of the TSB, the building was transformed into a pub around 30 years ago, taking the name The Bank Bar to reflect its history. It still houses the bank's original safe.
Susan said: "We've seen trends come and go, old fashioned locals close and new style bars open, but we liked The Bank Bar as it was when we took over and we've remained true to that.
"It has been hard work but we've enjoyed every minute of our time at The Bank Bar and are looking forward to many more happy years here."
The Bank Bar currently employs  a team of 12 staff, including Paul's son Ciaran Russell who is bar manager.
The pub is serving regulars who have been customers for more than 20 years, including the second generation of some Dundee families.
It is also proving popular with the increasing number of international visitors coming to Dundee, many of whom are seeking out a traditional pub.
Star Pubs and Bars area manager Brian Gray said: "It's a tremendous achievement to keep a pub at the top of its game over 20 years and it's all down to Susan and Paul, their high standards, brilliant service and great customer care.
"Thanks to them The Bank Bar has stood the test of time and remains a fantastic traditional local and a real asset to Dundee."