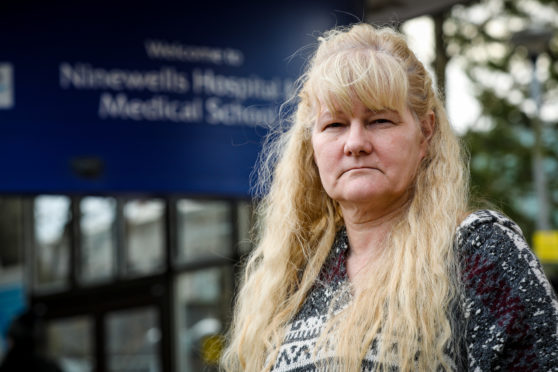 A nurse has hit out at the quality of dementia care in Tayside, stating her father was left alone in a locked room following a fall that led to a bleed on his brain.
Angela Wright, who is originally from Dundee but now lives in the Livingston area, said she was "totally alarmed" by the level of treatment her father Alistair Easson received as an inpatient at the city's Kingsway Care Centre.
Mr Easson, 80, suffered a serious head injury during a fall at the facility last Tuesday and Mrs Wright said he was left unattended despite exhibiting a depressed level of consciousness, a potential symptom of brain trauma.
Mrs Wright claims the injury was described to her by staff as a "one-inch laceration to his forehead" and was told they had no further concerns for her father's wellbeing, despite him feeling "sleepy" and lethargic.
Mr Easson was later transferred to Ninewells Hospital for emergency treatment after being found unconscious in his room and doctors discovered the 80-year-old had suffered a brain contusion and bleed.
Mrs Wright said: "I got a phone call on Tuesday to say he had tripped over a leg of furniture and had a fall but that they had no concerns for him. The staff told me he was feeling very sleepy but he was fine.
"The following day, I was told he had a chest infection and a high temperature, and on Thursday he was admitted to Ninewells. He is still there now, unconscious, and things really are not looking good.
"We've managed to get his temperature down but he is looking very frail. He will never be going back to Ward 3 (at the Kingsway Care Centre). He should have been moved next to staff for observation, not locked in his room alone for hours.
"I'm seriously unimpressed with the level of communication, that he had to be unconscious before I was told what was actually going on. It feels very unfair because I could have been with him sooner.
"I'm totally alarmed at the level of care and I honestly believe there needs to be an investigation into what happened. Dementia patients deserve better than this."
Mr Easson has remained in the care of doctors at Ninewells Hospital and fell more ill this week due to aspiration pneumonia secondary to the initial injury.
North East MSP Bill Bowman said Mrs Wright is "fully justified to ask questions about the standards of her father's care, as any loving daughter would in this situation".
He added:"NHS Tayside must fully investigate the reasons behind the injury and the allegations of later mistreatment.
"Any dementia sufferer being left alone with a head injury is unacceptable."
Dundee Health and Social Care Partnership said it was unable to comment on matters relating to individuals due to patient confidentiality.
A spokeswoman said: "The care and safety of our patients is our priority and where family members have concerns these are fully investigated and any necessary action taken.
"We would encourage Mrs Wright to contact us directly so we can discuss her concerns."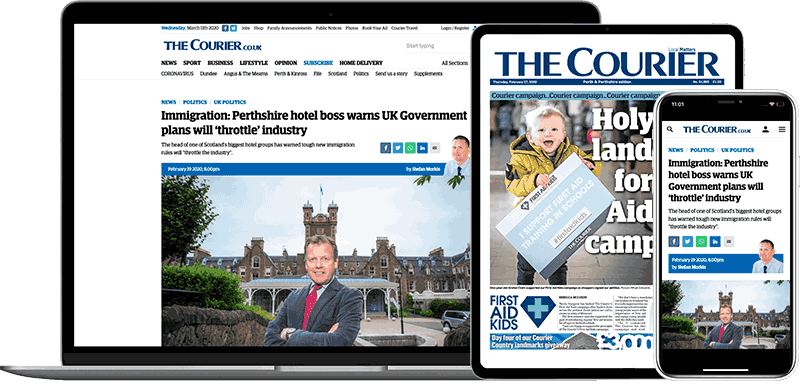 Help support quality local journalism … become a digital subscriber to The Courier
For as little as £5.99 a month you can access all of our content, including Premium articles.
Subscribe