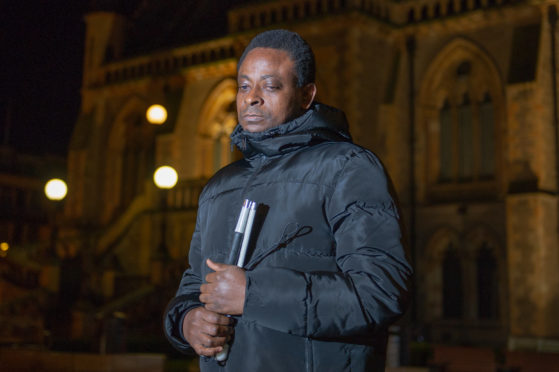 Education chiefs have defended the decision to remove a blind international student from Dundee University despite growing pressure to reinstate him and multiple accusations of discrimination.
A coalition of students and leading charity groups has stepped up calls for the institution to reverse its decision to tear up the status of PhD researcher Bamidele Chika Agbakuribe and provide him with support to finish the qualification.
Mr Agbakuribe has been told he must leave the UK and return to Nigeria with his wife and four school-age children in a matter of weeks as a result of being dropped from his studies but activists have ramped up efforts to keep him in the country.
Nearly 2,000 people have signed a petition posted by the president of the University and Colleges Union last week, and a further 81 academics have signed a letter calling for Mr Agbakuribe's student status to be returned.
He has also received the backing of a number of student groups and local charities in Dundee, including the Amnesty International society, refugee support society, Dundee Refugee Support, Save The Children and the institution's Scottish Nationalist Society.
Jack Jones, of the campaign group Students for Bamidele, said it would be "devastating" for Mr Agbakuribe to be torn away from his family and sent to Nigeria, "especially as he had to sell his house there to afford his university fees".
Mr Jones said: "The mass of students supporting Bamidele's case is growing. Hundreds of people are signing the petition every day. It just shows how strongly people feel about this injustice.
"The university needs to be completely transparent here, it cannot just shut down the debate. The dean must reopen Bamidele's case and give him a fair hearing."
Mr Agbakuribe claims his departure was "stage managed" after he complained to management about a lack of supervision and support, an appropriate working space or clear communication when he raised issues related to his studies.
Dundee University's Amnesty International Society said a "consistent failure to provide the appropriate support and assistance in his studies" had made it impossible for Mr Agbakuribe to meet the requirements of his degree.
The Refugee Support Society, in association with Dundee Refugee Support, accused the university of "unjust discrimination and a violation of human rights", while Save The Children expressed its "disgust" at Mr Agbakuribe's treatment.
A spokesperson said: "Not only is it a clear violation of his human rights, but is also causing distress and mental trauma to his family.
"His four children are all in attendance of schools in Dundee, with his eldest currently sitting SQA exams.
"These children will most likely be deported after the forced removal of Bamidele from his home.
"We urge the university to reinstate his student status and give him the necessary time to prepare his defence, for the sake of his family and their wellbeing."
---
University 'clarifies the record' on student row
Dundee university said it does not normally comment on individual cases but wanted to "clarify the record".
In a lengthy statement posted on its website, it said Mr Agbakuribe "had not satisfactorily met the academic requirements of their studies, despite extensive support".
"In these situations, an academic decision is made on an individual student's likelihood to succeed on the basis of their academic progress to date," the University said.
Addressing the level of support, it went on: "The student was in receipt of personal support through the University's Disability Services at a cost of several tens of thousands of pounds, including provision of a sighted guide and sighted reader support, IT equipment, dedicated software and one-to-one training in the use of that software.
"The student was provided with an appropriate supervisory team from the outset, with relevant expertise in the subject area of the research proposal.
"Changes to this team were made twice: firstly, on the student's own request, and secondly as a result of a change of focus of the original research proposal.
"Supervisors provided extensive commentary and guidance on the student's work, meeting regularly as a collective team as well as individually with the student.
"In view of financial difficulties resulting from the depreciation of the student's home currency, the university agreed to a revised payment plan for tuition fees.
"The student also benefited from funding from a national trust for students with disabilities.
"The University granted several extensions to study deadlines, in view of some IT challenges experienced by the student, that were quickly resolved by replacing equipment, and also following periods of ill-health.
"Every encouragement was given to the student to assist them in progressing their academic work."
It said it was "disappointed" but "satisfied that the decision to terminate the student's studies was made solely on the basis of a lack of academic progress against a background of extensive and dedicated support."
It went on: "The university regrets that, under immigration rules beyond the university's control, this means that the student is expected to leave the country."