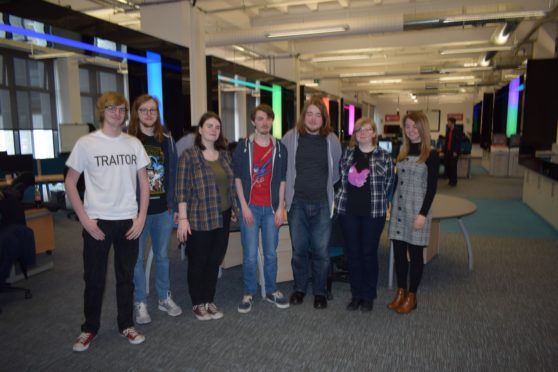 A team of games students at Abertay University have pulled off a massive coup by enlisting world-famous author Neil Gaiman as narrator for their student project video game.
Team Ghost Camp – made up of third year students Thomas Mackinnon, Carla Begg, Claire McDonald, Allanna Maitland, Sam Flint, Oli Lerigo-Smith, and Lewis Thomson – wanted to produce a "choose-your-own-adventure" game with a twist.
Tales of Treachery sees players team up, using their phones as controllers, to dictate how the story pans out.
Tales of Treachery is a four player choose-your-own-adventure party game where one of you is a traitor.

We're a 3rd year @AbertayUni student project.

Here's our work in progress intro – voiced by the wonderful @neilhimself.

We'll be posting a gameplay teaser soon, stay tuned! pic.twitter.com/HBkgqS7y7k

— Ghost Camp (@teamGhostCamp) February 17, 2019
However, one player is secretly a traitor, who aims to lead the other players down the wrong path.
Word of the party game reached Neil Gaiman through Douglas Mackinnon, father of team lead Thomas, who is directing the new Amazon Prime series Good Omens, based on the book Gaiman co-wroite with Discworld creator Terry Pratchett.
The author was so impressed by their creativity that when asked to act as narrator, he happily obliged.
Thomas said: "Neil thought the game sounded cool, and we thought there was no better person to voice the introduction than the master of storytelling himself.
"He really fit what we're trying to do – a game that's about creating your own story that you can enjoy with your friends – and having such a big name involved is really exciting for us.
"We're making a game we're really proud of and Neil's involvement has put more eyes on the project. I'm really grateful for his participation."
When Ghost Camp posted their first trailer for the game on Twitter, Neil's involvement helped the video go viral as it picked up more than 31,000 views in less than 48 hours.
Thomas added: "The online reaction to Tales of Treachery has been amazing. People say they love the idea, and are just really wanting to play the game."
"We've even had offers from people who want to come in and work on the game."
Abertay lecturer Yann Seznec, who mentored the team during the project, said: "If the team had been working on a more standard project or a game that wasn't about such rich storytelling, even with all the connections in the world it's very unlikely someone like Neil would have got involved."
"The game as a concept really matches what he's all about, and I think that's why it works so well. It's a real testament to this team and their creativity."
Good Omens will be Amazon Prime's second based on Gaiman's work after the hit American Gods.
It tells the story of an angel and a demon who team-up to save the Earth from the apocalypse. The series, which will stream at the end of May, stars David Tennant and Michael Sheen.
Director Douglas Mackinnon has also directed episodes of hit TV shows such as Doctor Who, Sherlock and Outlander.