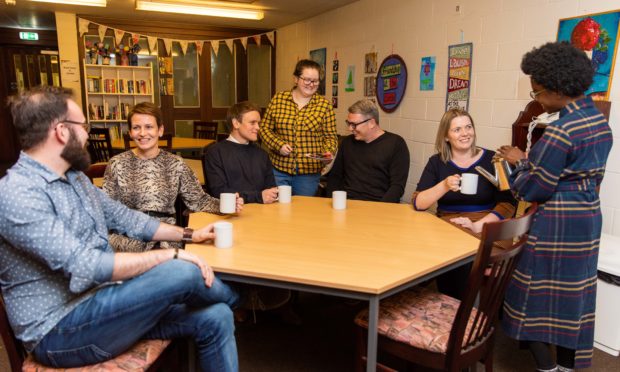 A project set up to help youngsters in local authority care is one of several Dundee groups to share a £1.8 million cash boost.
The National Lottery Community Fund Scotland awarded £1,864,384 through its Young Start fund and spread it across 28 youth led groups in Scotland.
Funding totalling £325,906 was split between four groups in Dundee it was announced today.
Circle Scotland CIC, in Dundee, received £49,330 to help with its work with youngsters aged 16-20 who are in or have had local authority care.
The money will be used to help set up a community cafe at the group's Staffa Place base.
The young people at the Circle Scotland CIC will also be supported to develop the skills and experience needed to secure jobs in the hospitality sector.
They will receive one-to-one mentoring  and mindset coaching while the Circle staff will work with local businesses to try to provide jobs for those youngsters trained.
Kirsty Thomson, chief executive officer of the Circle, said: "The funding will help us offer young people paid employment opportunities.
"It will also let us offer the training and support they need to start careers in hospitality and raise awareness of the different industries for employment in the city.
"As well as the practical experience it will allow the young people to become more confident, increase chances of employment and give them new skills within our community setting.
"We would encourage local business from all sectors to come forward if they would like to be involved in any aspects of the project."
The Fairfield Community Sports Hub in the city was given £78,126 to help it deliver sports and wellbeing activities for young people in north-east Dundee.
It will focus primarily on people aged 11-24-years and it will work with five primary schools to deliver extracurricular sports sessions for children.
A further £99,000 of the Dundee pot went to the Hot Chocolate Trust which will seek to employ a senior youth worker.
They will lead work with vulnerable and marginalised young people in Dundee city centre.
There will be one-to-one support and group sessions focusing art, music, sport, cookery and training and employment.
It will specifically target youngsters aged 12-21-years and it aims to engage with 350 people a year.
Finally in Dundee the Yusuf Youth Initiative was given £99,450 to support young people improve their mental and emotional wellbeing.
It will deal with youngsters aged between eight-16-years from minority ethnic backgrounds and include activities such as sports, arts and outdoor learning.
Maureen McGinn, National Lottery Community Fund chairwoman, said: "I am delighted to announce this latest investment.
"Young Start helps ensure that Scotland's next generation have the best chance by providing them with opportunities to develop their untapped talent and reach their potential.
"All of today's successful projects are designed to engage and inspire young people to follow their dreams while building practical skills and confidence for the future."
Details on the Young Start scheme via 0300 123 7110 or www.tnlcommunityfund.org.uk/funding/programmes/young-start