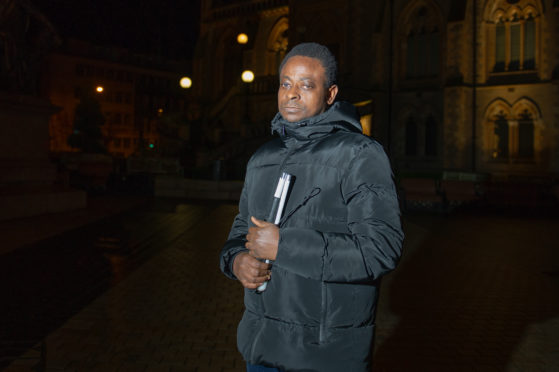 A union representing academic employees has offered its "strong support" to Dundee University staff at the centre of a discrimination row – despite its own president launching the petition which sparked it.
Dr Carlo Morelli, president elect of the University and Colleges Union (UCU) Scotland, launched a petition earlier this month accusing education leaders of "disability and racial discrimination" over the removal of a blind international PhD student.
Dr Morelli's call for Nigerian researcher Bamidele Chika Agbakuribe to be reinstated so he can remain in the country with his wife and four school-age children has been shared thousands of times and led to interventions by a number of student groups.
The Courier reported on Thursday that a leading human rights campaigner has agreed to take up Mr Agbakuribe's case, which centres around claims he was dropped from his studies unfairly after complaining about a lack of resources, facilities and support.
However, it is understood some senior figures at UCU Scotland were left unimpressed by Dr Morelli's comments accusing the university and its staff of failing to provide "apposite supervisory and specialised support" for Mr Agbakuribe.
A statement agreed by the union's National Executive Committee this week has reiterated its commitment to "defend our members in the face of misinformation about student support and supervision at Dundee University".
---
>> Keep up to date with the latest news with The Courier newsletter
---
It reads: "UCU Scotland Officers note with concern the news that a Dundee PhD student Bamidele Chika Agbakuribe from Nigeria who is blind, is, along with his wife and children, at risk of deportation from the UK.
"We believe that international students and staff should be welcome to live, study and work in Scotland, and that academic decisions should not lead to deportations of students and their families.
"We note the intersectionality of institutional discrimination and institutional racism and as a union we offer support and solidarity to Bamidele and his family at this difficult time.
"We also put on record  our strong support of UCU members at the University of Dundee.
"UCU Scotland officers are very clear that university staff, including UCU members, should not be criticised for making academic decisions and doing their jobs professionally. "
Mr Agbakuribe has been told he must leave the UK in a matter of weeks after being dropped from his studies in Dundee. The 38-year-old has accused the University of orchestrating a "stage managed" disciplinary process to force him out.
However, Dundee University has repeatedly rejected any suggestion of racial or disability discrimination in regards to its handling of his studies.
It said it is satisfied Mr Agbakuribe was removed "solely on the basis of a lack of academic progress against a background of extensive and dedicated support".
Dr Morelli will officially become a UCU Scotland officer in May when his term begins.
He said: "The case of support for Bamidele is based upon a clear statement of support for reasonable adjustments provided by the university prior to his starting of his PhD studies and the university's supervisory Code of Conduct for PhD students.
"The Code of Conduct specifies a student should meet at least monthly in person with their supervisor. From January 2018 until the termination of studies at the end of 2018 he never met with his supervisor."