Scots chart-topper Lewis Capaldi's Dundee show has sold out just hours after being announced.
The Glaswegian, who played the 3D Festival which marked the opening of V&A Dundee in September 2018, will be at Fat Sam's at 8pm on Friday, May 17.
The exclusive show will take place on the same day his debut album Divinely Uninspired To A Hellish Extent is released.
The gig has been organised by Assai Records, which has attracted a string of major acts to the city in recent times with Tom Walker playing in their King Street premises in early March and Snow Patrol packing out Church in June 2018.
Thanks to Assai, Foals will play two shows at Fat Sam's on Sunday, May 26 and Scots rock band Idlewild will hold an acoustic session at Clark's on Lindsay Street on Monday, May 27.
Tickets to Capaldi's Dundee show could only be obtained by buying an album bundle at the record store.
However they sold out just hours after being announced by the Broughty Ferry-based store.
osting on their Facebook page, Assai staff said: "We're delighted to announce another exclusive Assai Records show, from none other than Scottish pop phenomenon Lewis Capaldi.
"Debut album Divinely Uninspired To A Hellish Extent is released on Friday, May 17 2019, and that evening Lewis will play a full band show at Fat Sam's, Dundee. As always, the only way to get a ticket is to pre-order an album bundle at assai.co.uk.
"Please read full terms and conditions carefully before purchasing, and remember these will sell fast. Buy now to avoid disappointment."
It comes as Capaldi announced his biggest ever UK headline tour, which includes a date at the O2 Academy in London.
He will play Glasgow's O2 Academy twice and Edinburgh's Usher Hall once during the run of shows.
Capaldi said: "I'm absolutely buzzing to finally be able to announce my debut album. I never thought I'd get to the point where I'd be able to release a proper album and I ABSOLUTELY never thought that when I did, I would give it a name as stupid I have, but here we are.
"Everyone always tells you about how amazing recording their first album was and how they'll always look back on the 'process' with fond memories.
"I will look back on it as an extremely stressful time that somehow also managed to be extremely boring.
"The actual process of building the songs up I loved, but recording the same guitar parts over and over again to get them right and going back on mixes for weeks, I did not.
"I hope people don't think it's s**t. I mean don't get me wrong there will be one or two stinkers on there, but I'm only human and we all make mistakes, but as a whole I think it's pretty f*****g good.
"I'm excited for it to be released and have people finally be able to hear a full body of work from me for the first time.
"Should it bomb completely or receive an absolute critical lambasting, don't worry, it's just my life's work up until this point."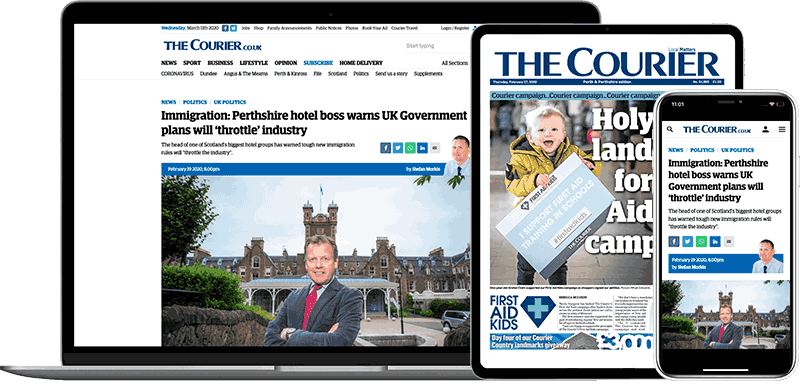 Help support quality local journalism … become a digital subscriber to The Courier
For as little as £5.99 a month you can access all of our content, including Premium articles.
Subscribe