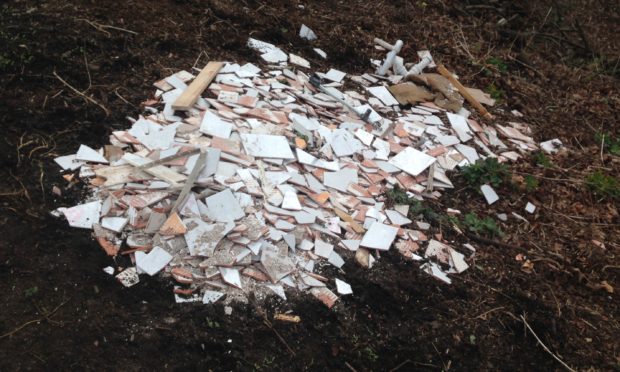 Fly-tippers are being threatened with a fine of up to £40,000 for dumping items after a pile of ceramic tiles were left at a beauty spot.
The tiles were left at Balgay Hill, Dundee, along with pipes and other assorted rubbish.
The mess was discovered just a few days after an old couch and a car wheel were found dumped on the beach at Broughty Ferry.
Councillor Kevin Cordell, Dundee City Council's neighbourhood services convener, has criticised fly-tippers for blighting the area.
He said: "It frankly beggars belief that there are some people who think this sort of behaviour is acceptable.
Councillor slams fly-tippers who dumped settee on Broughty Ferry beach
"It is anti-social behaviour that blights the communities and areas where it happens.
"I would advise anyone who sees fly-tipping to get it reported via the council's website, with as much information as possible.
"That will allow our environmental compliance team to actively investigate any incident."
Councillor slams fly-tippers who dumped settee on Broughty Ferry beach
He added that fly-tipping is illegal and that the council has robust measures in place to tackle the issue and to punish offenders if they are caught or can be traced.
Depending on the severity of the incident the authority can impose a fixed penalty ticket or report the culprit to the procurator fiscal who has the power to fine up to £40,000.
The city council received more than 900 public complaints about fly-tipping in 2018 but it could only hand out 14 fines.
The number of public complaints is 5% higher than the two previous years while the number of fines issued halved over the same period.
Fly-tipping is particularly bad on the south Angus border with Dundee, with rubbish left on quiet country roads.
There are concerns that the closure of some Angus refuse tips to all but recyclable waste might make the problem even worse.
The Scottish Environment Protection Agency says councils spend more than £2.5 million each year clearing up after fly-tippers.
Dundee resident Ian Duncan, 65, of Marchfield Terrace, spotted the rubbish while he walking in the woods at 10am on Friday.
He said: "It was quite substantial and this is disgusting and must be stopped.
"It's just ridiculous and I think a £40,000 fine is fair for people who do this. It spoils the countryside."
Incidents of fly-tipping can be reported to the city council via its website.