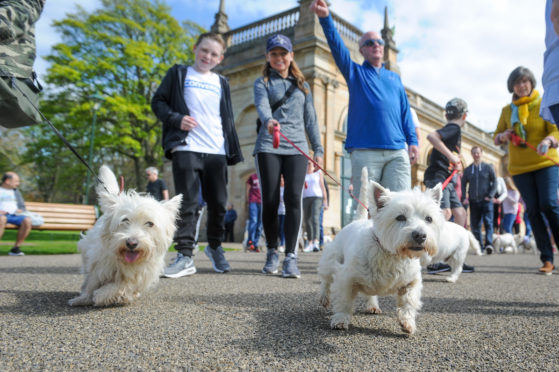 Dundee animal lovers are being invited to a festival for dogs this summer.
Dogfest will feature music from the Dundee Instrumental Band, a dog photographer, a Westie Walk, dog agility and training, as well as canine competitions and pet-related stalls.
The event will be held at Baxter Park on May 12 as part of Stobfest, a week-long series of community events in Stobswell.
Dogfest is believed to be one of the first events of its kind in the city.
Organiser Colin Clement, chairman of the Stobswell Forum, said the event was expected to attract a large number of people and their furry friends.
He explained: "Our Westie Walks have proven very popular and we had some very positive feedback last year. We wanted to repeat that.
"People who use Baxter Park on a regular basis told us they were keen to see more dog-themed things happening in the park.
"This year, at Dogfest, we will have two dog walks, one in the morning and one in the afternoon.
"It's not just for Westies, it's for all dogs and their humans.
"Last year we had about 60 to 70 dogs and their owners, and this year we are looking to see our numbers grow.
"There will be something for all ages, including children's entertainment. It's a great way to spend a Sunday.
"You can just turn up on the day and take part in whatever you fancy, its a very relaxed day."
Dogfest will be held from 10.30am until 3pm, at the glass and stone pavilions in Baxter Park.
Stobfest will run from Friday, May 10 to Saturday, May 18, with a gala day taking place on the final day.
The programme is still being finalised but Colin revealed that it will include music, taster sessions of yoga, massage and a group walk.
The gala day will include a parade, pipe band and lots of family activities.