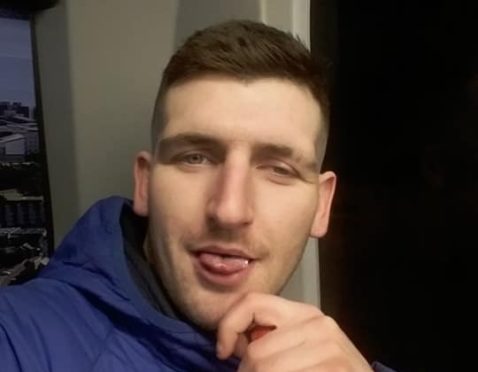 A man who caused an armed police siege after threatening an electrician with a Samurai sword because he could not fix his boiler has been jailed.
Clark Smith sparked a four-hour incident involving firearms officers, negotiators and the ambulance service at his home on Leith Walk on December 28.
The 28-year-old had become agitated when a council electrician, who had been dispatched to his home at around 10am, told him he would need a gas fitter to repair his heating.
Depute fiscal Charmaine Gilmartin told Dundee Sheriff Court the victim was left "pale and shaking" after the incident.
She said: "The accused put his face towards the the complainer's and went almost nose-to nose with him in an intimidating fashion.
"Spittle landed on the complainer's face. The complainer went out of the front door and stated to the accused to 'get a grip'.
"As he walked down the path he heard a loud noise and saw the accused standing at the door with a Samurai sword.
"He was shouting 'run, run, f*****g run. Go back to your own scheme'."
The electrician called the police and a firearms response was initiated.
Smith's home was surrounded and he handed himself in at 2.55pm.
His defence solicitor, Anne Duffy, said her client had been in hospital for two months prior to the incident, having been the victim of a hit and run, and still suffered from health problems.
She added: "It was a cold spell.
"One of the neighbours had heard the disagreement and she confirmed the complainant was 'belligerent' and 'cheeky' to Mr Smith, who was trying to find out when the boiler would be fixed.
"Mr Smith struggled to articulate his arguments properly, he became frustrated."
The court heard the Samurai sword was ornamental and had remained sheathed throughout the incident.
Sheriff Alastair Brown jailed Smith for 32 months – reduced from four years for his early guilty plea.
He said: "Mr MacLean doesn't get any choice about whose homes he visits.
"No doubt some people meet him with a cup of tea and a biscuit and are polite to him, even if he can't fix it himself.
"I regard it as a very serious offence indeed to threaten and abuse someone doing that kind of job when he's in your home and therefore in a vulnerable position.
"To do so by presenting a sword at him is exceptionally serious."