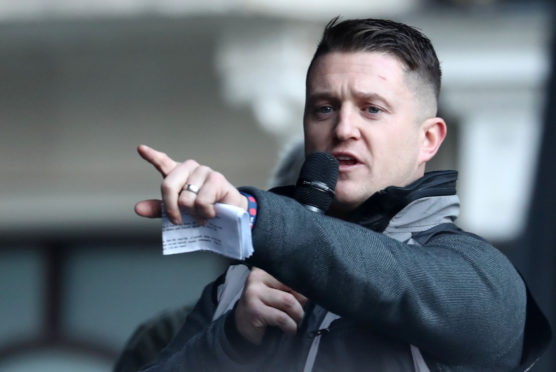 Police have said a threat apparently made by a group calling itself Antifa Dundee against a far-right campaigner was not "credible".
Tommy Robinson, whose real name is Stephen Christopher Yaxley-Lennon, posted a video on YouTube on Saturday in which he revealed police visited his Bedfordshire home to warn him of threats made by groups calling themselves "Antifa UK" and "Antifa Dundee".
The Antifa movement is a loose conglomeration of left-wing anti-fascist groups.
The recording made covertly by founder of the English Defence League, Yaxley-Lennon in January captures a policeman telling him about the alleged threats from the two groups.
Entitled "The British DEEP STATE and their persecution of TOMMY ROBINSON" it has been viewed nearly 150,000 times.
The policeman is recorded saying: "It basically says they are planning to hurt or possibly kill Tommy Robinson because they know where he lives and want to silence him.
"They got their hands on some AK-47s and petrol bombs. Allegedly, they're going to put these petrol bombs through your door when he sleeps.
"They also say they are planning to attack a few MPs".
A Bedfordshire Police spokeswoman said they could not comment on the issue as it was a live investigation.
However, a Police Scotland spokesman said the Dundee connection had been investigated and no credible threat had been found.
Police in the UK deliver what are known as Osman warnings whenever death threats are made against an individual.
No one from Antifa Dundee responded to requests for comment.
Robinson is one of the most controversial figures in British politics.
He founded the far-right, Islamophobic English Defence League and led the organisation for four years between 2009 and 2013.
He has been banned from social media sites including Facebook, Instagram and Twitter for breaking rules on hate speech.
Facebook said he broke rules that ban public calls for violence against people with protected characteristics and those that ban supporting hate groups.
Since November last year, Robinson had been adviser to UKIP leader Gerard Batten, prompting the party's former leader Nigel Farage to describe him as a "thug".