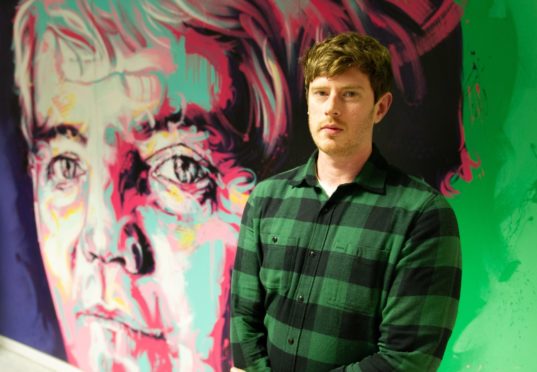 Dundee-trained artist Michael Corr tells Michael Alexander how he immortalised the city's former NCR boss in paint for a new exhibition.
Dundee will always hold a special place in the heart of artist Michael Corr.
The Campbelltown-raised 31-year-old met his wife Nikki McWilliams in the city while they were both studying at Duncan of Jordanstone College of Art and Design.
After graduating in graphic design, he secured an "absolutely amazing" space at the Wasps artist's studios, where he went back to his love of drawing and painting.
Today, the couple are based in his wife's home town of Alloa where she works as a designer.
However, Michael is delighted to have been able to leave an artistic legacy which recently saw him immortalise the man who led the transformation of NCR in Dundee into an ATM powerhouse.
Michael's portrait of Jim Adamson, who was appointed as head of NCR Dundee in 1979, forms a centre piece of a new exhibition created at the NCR Discovery Centre which celebrates NCR's long history and presence in Dundee, and the current business and global presence in 180 countries all around the world.
"The exhibition was curated by the Open/Close Project in Dundee," said Michael.
"The guy behind that, Russell Pepper, got in touch.
"I'd done a few projects with him previous, and he said 'I'm curating an exhibition of art – would you be on board?'
"NCR were very keen to get a piece up of Jim Adamson. I jumped at the chance. I was absolutely delighted to be asked."
Man who transformed NCR Dundee immortalised with new artwork
Michael, who specialises in portraits, didn't meet Jim at first. But he was given a handful of images to work from.
Using a combination of traditional and contemporary painting techniques, the colour palette he used takes inspiration from NCR's branding while the oversized scale of the portrait, which measures 2.3m x 3.6m,  reflects the "massive" impact Jim had on NCR.
"The first time Jim saw the painting was at the unveiling," laughed Michael.
"They were talking about getting a big curtain for it. A lot of pressure! I was stunned when I met the guy. He's quite a short wee guy, but had a real presence about him.
"He was really chuffed with it. His grand daughter was there. You could tell he was really taken aback by it in a positive way.
"I think he said he looked a lot younger in the piece so he was happy with it! A bonus!"
Michael feels his background in graphic design helps him as a portrait artist because he learned a lot about layouts and colour pallets. He experiments a lot with brush strokes and different materials.
"I love colour," he said. "I'm really into vibrant bright colours. I would say I approach pieces differently. It depends on the material I've got to work with. But I would say I'm an expressive painter. I try to put a lot of energy into my pieces. I try and make it a wee bit more alive than something that's still."
Michael said he and his wife always try to find time to go back to Dundee which he describes as a "great city".
Previous work he did for the Open/Close Project included a Stobswell mural tribute to suffragette and social campaigner Ethel Moorhead who lived and campaigned in Dundee.
However, he has also worked on a number of other high profile projects elsewhere including a Robert Burns portrait that was displayed for the SECC in Glasgow.
Last May he also paid tribute to the late Frightened Rabbit singer Scott Hutchison with a portrait that he created at Glasgow's Riverside Festival.
"I feel that with Scott's portrait the time was right for a lot of people because they were just reeling basically at what had happened," added Michael, who was a Frightened Rabbit fan.
"Instead of something sad it was something positive that people could look at.
"It did have a home in Glasgow but because of their accommodation situation they couldn't house it for very long.
"We've got it just now and we are trying to find somewhere more permanent. It would need to be somewhere indoors."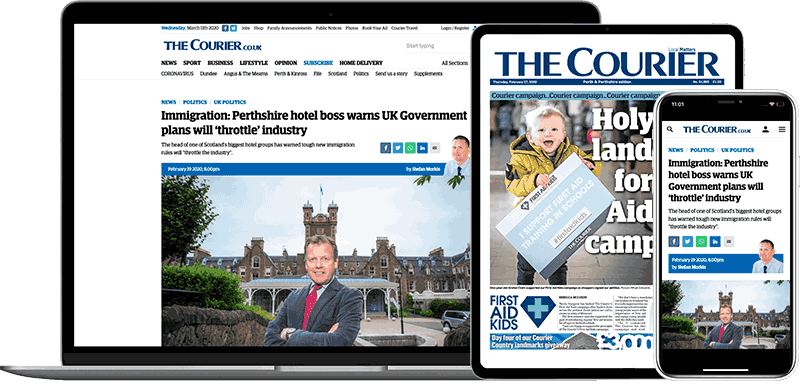 Help support quality local journalism … become a digital subscriber to The Courier
For as little as £5.99 a month you can access all of our content, including Premium articles.
Subscribe