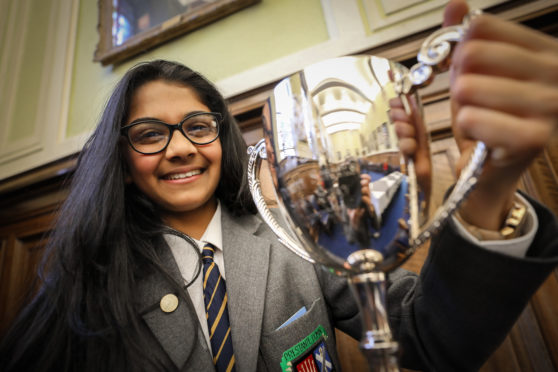 A thought-provoking vision of how a visitor from the future might view the Dundee of today won the sixth annual Dundee Burgess Short Story Competition.
Third year pupils from across the city were asked to write stories about a virtual reality tour of old Dundee.
High School of Dundee pupil Sneha Sripada, won the top prize for her story For Ava, which tells the tale of a group of people whose virtual reality trip back to 2018 ends in disaster.
St John's RC High School pupil Ewan Mannion came second for his story A Glitch in the System while Grove Academy pupil Monty Monteith's story Oor Butterfly Effect came third.
There were also worthy mentions for essays by St John's RC High School pupil Ruth Black, Wallace Boud from St Paul's RC Academy and Rebecca Hamilton from the High School of Dundee.
Sneha, 14, from Longforgan, said it was "very meaningful" to win the prize and said her story was inspired by many of the things she sees on her walk to school.
She said: "Sometimes when I'm walking from the bus station I see some of these issues.
"I'm interested in psychology and would like to help people with drug problems when I leave school."
Each winner received a book token and all six pupils received a book signed by author Alexander McCall-Smith.
This year's judges were 4J Studios fonder Chris van der Kuyl, Meg Dickson and Courier editor Catriona MacInnes.
Ms Dickson said Sneha's story had been the judges' unanimous choice.
She added: "This year the winning story leapt out at us but it was a pleasure reading all of them."
Lord Provost Ian Borthwick hosted Thursday's award ceremony in the City Chambers.
He said: "This is a superb competition  that saw 53 pupils from across the city put pen to paper or finger to keyboard.
"The judges all assured me that the standard this year was incredibly high."
---
The winning essays
First place – For Ava, by Sneha Sripada (High School Dundee)
Can reality ever be unreal? Or is it something that you deem to be unreal that is, in fact, reality? September 15th, 2078, 8.28am. The precise moment we entered the chamber, into a parallel universe. Parallel in the sense that some of us would never meet again. There were four of us; Me, Diane, an aspiring author gathering inspiration for my upcoming science fiction novel. Ava, the real intelligence, a passionate scientist, my best friend. Christian, jaunty, juvenile, a renowned archaeologist. And then Jackson, our doctor, our smiles, our saviour. However, nobody could save us from what was about to happen.
Inside the chamber, it was tenebrous, like a vault possessing a secret that we were about to discover. Metal walls blocked us from the outside world, and the room was filled with emptiness. Suddenly, the door slammed shut. I shivered in the bleak gust of air behind. The VR activated.
"Good morning," it enunciated monotonously. "My name is VictoR. Today, I will be transporting you to Old Dundee. The current time is 8.30am and the arrival time is 8.30am. The programme will last for one hour, concluding exactly at 9.30am. Do not hesitate to ask me anything. Remember, your wish is my command. Are you ready?" he asked, without waiting for a response. All I recall was a surge of light, a blink, and we were there.
"Welcome to Old Dundee," Victor said, with not such a welcoming tone. "Our location is Dundee City Centre."
It was the same city, but how different it was. We walked across our city, below us, slabs of concrete on the ground resembled dominoes, dotted with chewing gum. In one glance, I witnessed so many crimes. I saw a mother, if that, who could have easily been wearing school uniform. She held her baby, or what she visibly considered a liability, so carelessly, whilst swearing to her drunken partner and smoking. Everyone around us was identical, holding their cigarettes, puffing clouds of smoke into the dismal sky. I bellowed coughs back into the exhausted air.
Next to me, Jackson was observing a group of psychotic drug addicts, Ava collecting the plethora of syringes for lab tests. Here, humanity was at its worst. Jackson couldn't protect them if he wanted to protect himself. It was too late anyway for one; She swallowed some concoction, and that was it. She lost her inhibitions, she lost her vision, she lost her consciousness. She lost her life. And the public continued to walk past with their own milder tobacco, dismissed this incident for normality. We refused to believe that this was our past. Ava shed a tear.
"VICTOR! Take us away from here!" Christian yelled.
"Please specify a preference," VictoR replied emotionlessly.
"ANYWHERE!"
"Please specify a preference."
Infuriated, anguished, Christian took a breath and said, "The Keillor."
VictoR then questioned, "Who?" He kept repeating, "Who? Who? Who?"
He was breaking down, distorting. Ava was the technical expert. She would know what to do. She always did.
"Ava, come here," Christian called.
Two seconds later, Ava was obliterated by VictoR. When Christian said 'Keillor,' VictoR interpreted it as 'kill her,' and it was Ava's name that answered the question of 'Who?' Our doom was his command.
"BRING AVA BACK! Rebuild this dying city! Please VictoR!" I screamed in agony. But like the drug addict, it was too late for her. 9.30am. Back we went to 2078, safe, secure 2078. The door swung open. I trembled in trepidation. Ava only died virtually, it was like a dream, it wasn't real, I assured myself. I felt weak, drained, almost crippled. I looked behind me to see only Christian and Jackson, both old, wrinkled, withering away into the past. The reflection in the metal walls showed me that I, too, was the same. I went to 2018 as my present self, and here I was in 2078, 81 years of age.
"Go." I croaked to the guys.
Like VictoR, before I waited for their response, I slammed the door shut. The programme re-activated. However, this time, I was alone, and I didn't know when, or if I could return.
"Good morning," VictoR spoke again, in his cold, mechanical voice. "My name is VictoR. Today, I will be transporting you to Old Dundee. The current time is 9.30am and the arrival time is 9.30am. The programme will last forever and it will never finish. Are you ready?"
5.30pm. I strolled along the Tay Bridge. Reflecting. In an endeavour to save my best friend, I failed and ruined my own life instead. Like a prisoner, I will remain in the metal walls of this chamber forever, serving a life sentence with the harshest punishment. Living for eternity in the year 2018.
Page 1
In the distance, I see a building. A silhouette, geometric, glistening on the waterfront. A voice announces the grand opening of the new art museum, the 'VictoR & Albert.' Perhaps VictoR did  obey my wishes. Perhaps he was rebuilding the city after all.
Second place – Glitch in the System, by Ewan Mannion (St John's RC High School)
"You – may – now – enter -"
The droning, robotic voice accompanied the opening of the large metal doors from which oozed a billow of swirling white smoke. Tentatively, I stepped inside, the wires, machinery and apparatus that engulfed me making it seem like some weird contamination laboratory. Settling myself into the strange chair like contraption, I was startled by a large robotic arm appearing from the mist. From its vice like grip I retrieved a flat cap, some short threadbare breeches, braces, an oversized coarse greying shirt, and a pair of tackety boots.  I had wanted to be the son of some rich mill owner, but that didn't look likely now. Feeling rather apprehensive and cursing myself for ever agreeing to this, I closed my eyes, the cacophony of mechanical sounds whirling me into another, less familiar time…
A deafening crashing, clanking noise followed and a flurry of sparks flew out. There seemed to have been some malfunction, yet, the same tinny, loud monotonous voice whined, "You–have – reached – your – destination." Glad to be free from my restraints, I exited the small, enclosed room to find myself exactly where I started. Yet, something didn't feel right…
Everyone around me was dressed in the same grimy looking clothing, heads bent, wheezing and coughing. I shuddered. Trying to be sensible, I convinced myself that they must simply be fellow passengers, others trying the same "Amazing VR Experience" alongside me. I decided to have a look outside. The exterior design of the buildings baffled me. This wasn't the city centre of Dundee that I knew, and yet it wasn't exactly unfamiliar either. I thought of my recent visit to "Verdant Works" where I had learned about the importance of the jute mills to my home town's history. I turned to re-enter the offices, but the door wasn't there. A blank space and an abandoned cobbled street stretched out around me. Trying to keep my composure, sure that I must have hit my head when the machine malfunctioned, I assumed there was a plausible explanation for all this. I looked for the cameras, desperate for it to be some cruel joke, but could see nothing.
It must have been closing time at the nearby mill for soon the streets were swamped with ragged figures. Scared, I ran down a dark alleyway to escape. Trying to catch my breath, I heard footsteps approaching closer and closer, louder and louder. A dark figure was running rapidly towards me. Terrified, I feared the worst and was relieved when the young boy simply ran straight past me as if I wasn't there, dropping a package as he did so. Yet my relief was short lived as next a stampede of footsteps came chasing after him.  Police officers found me cowering in the darkness, they stopped and hauled me to my feet.
"Richt laddie, yer under arrest! Yiv been caught red handed, nabbed stealing fae the works, yi young urchin!"
"But, but…" I began, as I was dragged off by the scruff of the neck whilst trying to plead my innocence.
I had no idea what was going on. Had I somehow actually been transported back in time? It didn't seem possible. Yet here I was, a suspected criminal, the real culprit no doubt the young man who had ran passed me in the dark alleyway.
Desperate, I tried to explain my case much to the amusement of the officers who simply laughed at me. They held their stomachs and chortled loudly, touching their noses and nodding at each other. "Save it fir the judge," they bellowed, holding each other up in their merriment.
Townhouse Jail. The cell was dark, damp and dismal. The clatter of the iron bars and the sound of the key rattling in the lock as they threw me in sent shivers down my spine. A tin cup of some awful looking and foul smelling liquid was held out to me and thirsty, I quickly lapped up the grimy looking contents. Soon, I ached all over, courtesy of the icy stone floor. A food riot had taken place the night before and the cells were packed. "Yer facing seven years transportation to Australia, son," my rough spoken, drunken cell mate delighted in informing me.  "Either that, or it'll be an industrial schuil fer ye, or much, worse, much, much worse."
Again I was dragged to my feet by two officers. I was pushed out into the street and walked along to what I recognized as the area surrounding the city chambers.
Panicking, I tried to pull back, but received a few slaps to the head for my troubles. My eyesight began to blur and the figures surrounding me began to fade as a whirring, clanking sound grew louder and louder…
"I – hope – that – you – enjoyed – your – visit…"
The buzzing stopped abruptly. I was back in the strange chair-like contraption.
Third place – Oor Butterfly Effect, by Monty Monteith (Grove Academy)
"We have a forecast for heavy rain and thunderstorms in Dundee today. We recommend you try your best to stay in your houses."
*
My heart was racing. I was so excited to experience this brand new VR system but at the same time I was slightly nervous. For what seemed like ages I sat in the waiting room, pondering my thoughts, until at last, it was time.
*
The chamber walls started spinning and turned a bright white. As the spinning slowed, an image of Dundee's Caird Hall and City Square came into view. As the picture sharpened, I began to hear the sound of traffic and peoples' voices. There were similarities between 1930's Dundee and present day, but at the same time everything seemed unfinished much like a jigsaw on its way to completion.
*
"We have reports that lightning has struck a building in Dundee that is rumoured to be testing a new technology. We will get back to you with more details when we have them."
*
I had free reign in a simulation that seemed limitless. I saw a discarded bucket and took a seat to think about what I was going to do. As I sat, I overheard a conversation between two men.
"Have you been workin' hard on yer sketchin' Mr Watkins?" asked one.
"Aye, no' like weary Wullie o'er there!" I realised I was the boy Mr Watkins was referring to. But that couldn't be right, after all, the people in the simulation should not be able to see me?
Making my way down the cobbled High Street, the streets of Dundee seemed more bustling and vibrant than I knew. I saw a boy dressed similarly to me, in black dungarees, walk into a bakery. The smell of fresh bread was delicious. Then something startled me, it was an angry voice. I turned to see the boy who had previously entered the bakery, running out with a loaf in his hand. He was quickly followed by the Baker who soon realised he was not going to catch him and gave up. He wiped some sweat from his forehead and turned to me. He gave me a cold stare; did he think I was the boy? He approached me, his face red and puffy. "You boy! Are you going to pay for what you stole?" he yelled at me. Reluctantly I shuffled forward. Surely, I couldn't come to any harm? After all, this was just a simulation, right?
"Pay up!" he spat.
"I didn't do it!" I told him. He looked at me sternly, he didn't believe me.
"Pay up!" he yelled again clearly getting more impatient. I handed him all the coins in my pocket: a 50p, two 20p's and a 5p. He looked at them oddly.
"You tryin' tae be funny son!?" he snapped. Then it hit me, they didn't use these newer coins in the 1930's.
"If you cannae pay, I'll get the polis tae ye." I didn't need telling twice and scarpered. Was this all part of the simulation? I was so confused. I clattered down Castle Street, glimpsing shop windows in my haste.
*
I reached the bottom of Castle Street, but the view I saw was completely different from what I knew. I am so used to The Waterfront being a construction site, with new buildings slowly materialising. Instead, it was all docks complete with cranes loading cargo onto boats and men, in oil-stained uniforms, bustling about. And there, towering over a pile of jute, was the Royal Arch. I had always wanted to see it, and although years of wear had taken its toll on the structure, it was still jaw dropping. Then, I jumped with a start. A loud, expressionless voice echoed throughout Dundee, although everyone in the program seemed oblivious to it.
"Hello test subject number 1. I am VictoR the creator of this simulation. Due to an unexpected weather event you have experienced a glitch within the programme. Due to this I will take you out of the programme early."
I was lost for words. Dundee slowly faded around me and, with a flash of light, I was back in the chamber. Hopefully my trip into Dundee's past hadn't influenced anyone or anything…
*
"In other news, archivists have discovered a diary kept by the famous Dundee illustrator Dudley D. Watkins. In it, he describes how he took inspiration for his well-loved Oor Wullie character from his many morning strolls through Dundee."